'Alice in Wonderland' shatters box office records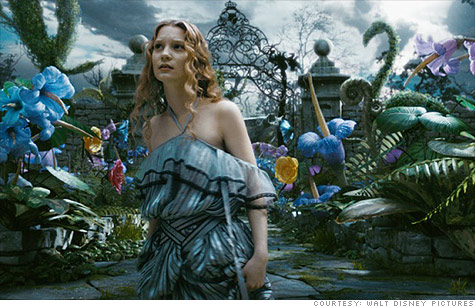 NEW YORK (CNNMoney.com) -- Moviegoers flocked to the premiere of "Alice in Wonderland" this weekend, with the big-budget Disney film shattering several box office records, highlighting the ongoing appeal of 3-D films.
Tim Burton's interpretation of the classic book by Lewis Carroll, starring Johnny Depp and Mia Wasikowska, opened Friday in roughly 7,400 screens at 4,000 locations.
Despite mixed reviews, "Alice" brought in an estimated $116.3 million from Friday to Sunday. It was the biggest ever March opening and soared past the $77 million that "Avatar" earned when it opened last December, setting a new record for the debut of a 3-D feature.
The performance also blew past industry expectations. According to BoxOfficeGuru.com, the film was expected to make about $70 million in its first weekend.
Overall, "Alice in Wonderland" notched the sixth biggest opening weekend in box office history. It was also the highest grossing ever for a movie released outside of the peak movie-going months of May, July or November.
3-D mania
"It was a phenomenal opening," said BoxOfficeGuru.com's Gitesh Pandya. "It proves that moviegoers have no problem spending more for 3-D movies."
Ticket prices for 3-D films like "Alice" can cost up to $4 more than traditional films. "Alice" was also shown in IMAX, which can be even more expensive.
According to BoxOfficeMojo.com, about $80 million, or 70%, of the opening haul for "Alice" was due to 3-D ticket sales. In IMAX, "Alice" brought in a record $11.9 million.
Brandon Gray, president of Box Office Mojo, said the combined premium from 3-D and IMAX sales for "Alice" appear to have added about $22 million to the film's gross. IMAX (IMAX) shares gained nearly 8% Monday.
"There were a number of factors working in favor of 'Alice in Wonderland'," Gray said, including the star power of Depp and Burton, as well as Disney's aggressive marketing of the film.
"It was a combination of appealing material and a strong marketing campaign," he said. "You could also say that there was a halo-effect from the 'Avatar' run."
While "Alice" surpassed "Avatar" in its opening weekend, analysts do not expect the Disney (DIS, Fortune 500) film's overall performance to top that of James Cameron's epic, which brought in a total of $2.5 billion to become highest grossing movie ever.
"It's going to be a more front-loaded film than 'Avatar,'" Pandya said. "It won't have the same kind of legs."
To be sure, few films have enjoyed the staying power of "Avatar." The 20th Century Fox film opened just before Christmas and benefited from a slew of holiday weekends during its extraordinary 3-month run.
But the success of "Alice" has raised expectations for a host of other highly anticipated 3-D films due out this year, including Warner Brothers' "Clash of the Titans," which comes out next month. (Warner Bros. is owned by Time Warner (TWX, Fortune 500), the parent of CNNMoney.com).
Other 3-D films in the works will capitalize on well known franchises, such as Harry Potter, Shrek and Pirates of the Caribbean.
Jumping the shark
Pandya said he expects most of this year's 3-D features to do well. However, he warned that the challenge for the movie industry will be to take advantage of the current buzz surrounding 3-D films without overdoing it.
"Hollywood is jumping on the 3-D bandwagon," Gray said. "There's a high probability they'll run it into the ground."
He said much of the current interest in 3-D movies is due to the novelty of the technology, adding that it's too soon to tell if that interest will last much longer. For the time being, however, it appears that movie-goers are not deterred by higher prices for 3-D films.
"Right now, people seem willing to pay the premium for an enhanced movie going experience," Gray said.