Treasurys dip as $21B auction sees big demand
NEW YORK (CNNMoney.com) -- Treasurys traded lower Wednesday as stocks advanced slightly and a government auction of $21 billion in 10-year notes generated strong demand.
What prices are doing: The benchmark 10-year note fell 5/32 to 99-8/32, and its yield rose to 3.721%. Bond prices and yields move in opposite directions.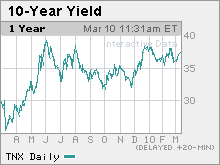 The 30-year bond fell 5/32 to 99 and its yield rose to 4.689%. The 2-year note fell 2/32 to 99-30/32 with a yield of 0.912%. The 5-year note fell 7/32 to 100 with a yield of 2.384%.
What's moving the market: After strong demand in the government's $40 billion auction of 3-year notes Tuesday, an auction of 10-year notes Wednesday was also well-received.
Investors submitted bids totaling nearly $72.3 billion for the $21 billion worth of 10-year notes.
The bid-to-cover ratio, a measure of demand, was 3.45. That's up from 2.67 at the previous auction in February.
Thursday, the government also will auction $13 billion in 30-year bonds.
Stocks rose Wednesday on strong gains from financial services and technology companies and mixed news from two economic reports. Trading has been mostly lackluster this week as investors take a step back amid no major news on the economic front.
The U.S. Commerce Department said wholesale inventories unexpectedly fell 0.2% in January. Separately, the Labor Department said fewer states reported increases in unemployment in January.
Meanwhile, the Treasury Department announced a record $221 billion monthly deficit in February. The shortfall was up from the previous record of $193.9 billion in February last year.
What analysts are saying: In the absence of any major economic data Tuesday, the Treasury market is merely moving based on the 10-year note auction, said Michael Cheah, a bond fund manager for SunAmerica.
Meanwhile, Greece's plan is much talked about but doesn't appear to be a major market mover. The panic over Greece's debt subsided after the country's auction of 10-year bonds brought in about $6.8 billion last week.
The market is diluting itself on this news but the calming effect could wear off, Cheah said.
"Nobody wants to talk about this giant dead rat under the carpet," he said. "The Greek situation is a basket case because as a country they're spending more than they take in and their people are not prepared to spend less, nor be taxed more."