Trying to flunk banks out of college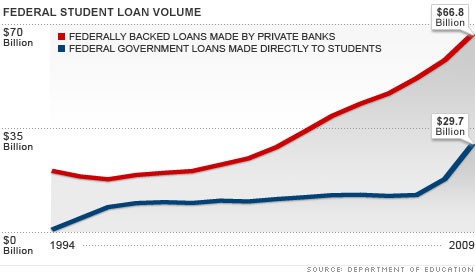 WASHINGTON (CNNMoney.com) -- President Obama has been waging a war with banks over who gets to dole out cheap student loans backed by the federal government.
For months, key lawmakers planned to move a proposal to force all government-backed student loans to come solely from the federal government as part of the health care legislation. Democrats want to cut out bank middlemen who now collect a subsidy to make federal student loans, such as Stafford loans, which offer the lowest interest rates because the federal government assumes the default risk.
However, last week, the Congressional Budget Office said the Obama plan would save taxpayers $67 billion over 10 years, which was far less than projected months ago. The savings would come from ending bank subsidies and allowing the government to keep income earned on the spread between making and issuing the loans that banks now pocket.
Now the future of who gets the exclusive right to dole out federally-backed student loans is less clear, although the White House continues to push to link the student loan issue to a health care vote.
"For too long, bankers have gotten a free ride," wrote Education Secretary Arne Duncan in a Washington Post op-ed piece, saying the existing student loan system subsidizes banks, so that "working Americans pay while bankers get rich."
The impact
If the legislation passes, Democrats want to use the billions in savings to fund more need-based Pell grants for low-income students.
Consumer advocates say most students won't notice a difference in getting loans, since financial aid offices would continue to work as the intermediary and many offices already administer direct federal government loans.
But banks and some Republican lawmakers predict the legislation will cause delays and disruptions in processing student loans, saying the federal government doesn't have the manpower to take over the high volume of loans now originated by the private sector.
The banks also predict that thousands of jobs will be lost in the private student banking industry, including 2,500 at Sallie Mae (SLM, Fortune 500), said company spokesman Conwey Casillas.
The stakes are high, because federally backed student loans are the single most common way students finance higher education. It's a core product for student loan giant Sallie Mae, which also sells students its own private loans at higher interest rates.
The alternative
Banks would like to keep a piece of the action, when it comes to creating and delivering loans, for a fee of $55 per loan. The current version of their plan costs about $4 billion more than the Obama plan.
The chief financial officer of Sallie Mae, Jack Remondi, believes the Obama plan would turn the Department of Education into "one of the world's largest banks."
The bill to cut banks out of the process entirely has already passed the House, but has languished in the Senate, thanks to intense lobbying. Sallie Mae spent $3.5 million last year, according to the Center for Responsive Politics. And a smaller student loan lender, Nelnet (NNI), spent $580,000 on lobbying.
Private banks issued far more federally backed loans, some $67 billion, in the 2009-2010 school year, compared to $30 billion issued in direct student loans by the federal government during that same period, according to the Department of Education.
The politics
The fate of who makes these student loans is poised to be decided in coming weeks.
The House bill cutting banks out of federally-backed student loans hasn't moved in the Senate, where bills need 60 votes to avoid a filibuster. So, Democratic lawmakers have been planning to stick student loans and health care together in a procedural move called "reconciliation," which avoids filibusters with a simple 51-vote majority.
However, Sallie Mae has some powerful friends in the Senate. Six senators, including Sen. Ben Nelson, D-Neb., and Sen. Blanche Lincoln, D-Ark. -- whose states house student loan originators -- wrote Senate Majority Leader Harry Reid, D-Nev., on Tuesday saying they worried the student loan bill "could put jobs at risk."
Congressional watchers had expected President Obama to win this round, but now it's more up in the air. Democrats are considering abandoning the student loan issue if it threatens passage of health care.
"If House leadership believes that education language could leave the Senate short of the 50 votes it needs to pass a reconciliation bill, the House very well may drop the education portion," said Teddy Downey, a policy analyst for Concept Capital Washington Research Group.
The House version of the legislation would have taken effect July 1.
One reason for the tamped-down estimates predicting less savings is that hundreds of universities each month have already been saving money by transferring their financial aid offices from the private-sector programs to the federal government's direct loan program.
The Department of Education says 46% of schools are ready for direct loans and 39% of schools are "in transition," preparing to make the switch to the federal direct loan program.
"Our experience has been and continues to be absolutely phenomenal," said Walter O'Neill, assistant vice president for financial aid at Roosevelt University in Chicago, which took three months to make the switch to the government's direct loan program last spring.
But that leaves 15% of schools that aren't ready. Some worry that students at these schools won't get loans if the schools, including several community colleges and historically black colleges, don't have the resources to switch their computer systems in time.
"There could be several institutions that can't make the switch and obviously there's some concern about what happens at those institutions," said Haley Chitty, spokesman for the National Association of Student Financial Aid Administrators.