Mixed finish for stocks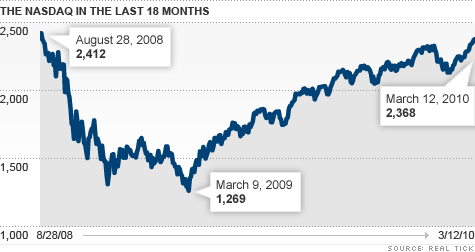 NEW YORK (CNNMoney.com) -- Stocks ended mixed Monday, fighting back from big losses, as investors weighed Moody's warning about the United States' AAA rating and a proposed bank regulation bill ahead of Tuesday's Federal Reserve meeting.
The Dow Jones industrial average (INDU) added 17 points, or 0.1%. The S&P 500 index (SPX) ended just above unchanged, eking out a fresh 18-month high. The Nasdaq composite (COMP) slid 5 points, or 0.2% after ending Friday's session at an 18-month high.
Stocks had tumbled through the early afternoon, but managed to trim losses by the close.
Comments by Moody's that the United States and Britain are more likely to see a downgrade than rivals Germany and France initially soured investor sentiment.
However, the ratings agency was quick to note that there is no imminent rating pressure for the United States or the other countries, even amid extensive spending in the aftermath of the global recession.

Moody's raising the warning on U.S. debt was unsurprising and not a cause for alarm, said Matt King, chief investment officer at Bell Investment Advisors.
"The risk of the U.S. defaulting on its debt is nil and there's no cause for immediate concern," he said. "Longer term, it means that we'll see rising rates."
He said that stocks are in a quiet period right now in terms of news flow, making continued market choppiness likely, until the next unemployment report is released and the first-quarter reporting period gets underway.
Stocks may see volatility this week in the aftermath of an advance that propelled the Dow, S&P 500 and Nasdaq higher in four of the last five weeks. The rally left the Nasdaq and S&P 500 at the highest point since September 2008 and the Dow just below those levels.
Since bottoming at a 12-year low on March 9 of last year, the Dow has gained 62% and the S&P 500 has gained 70% as of Monday's close. Since bottoming at a 6-year low on the same day, the Nasdaq has gained 87%.
Company news: Google (GOOG, Fortune 500) is reportedly close to shutting down its Chinese search engine, amid strict government monitoring and a recent targeted cyber attack. Shares fell 4% and the weakness dragged on other tech stocks.
Philips-Van Heusen (PFH), the owner of Calvin Klein, will buy fashion brand Tommy Hilfiger from Apax Partners in a cash-and-stock deal worth $3 billion. Shares of Philips-Van Heusen rose 9.8% in Monday trading.
Chordiant Software (CHRD) shares rallied 30% in unusually active trading after the maker of customer service management software agreed to be bought by Pegasystems (PEGA) for $161.5 million in cash. Chordiant shares rallied 31%. Pegasystems shares gained 6.7%.
Boston Scientific (BSX, Fortune 500) said it is halting sales of its heart-shocking defibrillator implants after it neglected to tell regulators about two production changes in the manufacturing of the product. Shares fell 13% in active New York Stock Exchange trading.
Wal-Mart Stores (WMT, Fortune 500) rose 2.8% after Citigroup upgraded it to "buy" from "hold" and raised its price target to $65 from $54, saying the company is getting more competitive in the "modern day price war in food retail in 2010."
AIG: Troubled financial firm AIG (AIG, Fortune 500) said it will withhold $21 million in bonuses that are due to former and current staff of its Financial Products unit, the unit most directly responsible for its almost-collapse 18 months ago. AIG will pay out $46 million to other employees of that unit.
Financial reform: Roughly 18 months after the collapse of Lehman Brothers, Senate Banking chief Christopher Dodd, D-Conn., released a draft bill of broad regulatory changes aimed at preventing another financial crisis.
The bill calls for a new consumer protection bureau within the Federal Reserve that would regulate all lending transactions. It would also set up a new process to put struggling firms under government control and break up large companies if they pose a major threat to the stability of the system.
The bill does not go as far as what President Obama has proposed, nor does it go as far as similar legislation already passed in the House. Still, getting it passed will be an uphill battle in the Senate.
Economy: Industrial production and capacity utilization, which measure factory output, both rose more than expected last month, according to a Federal Reserve report released Monday.
Industrial production rose 0.1% in February, after rising 0.9% in January. Economists surveyed by Briefing.com thought industrial production would be unchanged, according to a consensus of economists surveyed by Briefing.com.
Capacity utilization rose to 72.7% from 72.5% in January, versus forecasts for an unchanged reading.
The Empire manufacturing survey, a regional reading on manufacturing, fell to 22.86 in March from 24.91 in February, a little stronger than the 22 level expected by economists.
Fed meeting looms: On Tuesday, the focus turns to the Federal Reserve, meeting to discuss interest rates. The central bank is widely expected to hold the fed funds rate, a key overnight banking rate, steady at historic lows near zero. However, what the bankers say in the statement about the economic outlook and the future of Fed policy will be critical.
The dollar and commodities: The dollar gained versus the euro and fell versus the yen.
U.S. light crude oil for April delivery fell $1.44 to settle at $79.80 a barrel on the New York Mercantile Exchange.
COMEX gold for April delivery rose $3.70 to settle at $1,1105.40 per ounce.
Bonds: Treasury prices rose, lowering the yield on the 10-year note to 3.7% from 3.71% late Friday. Treasury prices and yields move in opposite directions.
World markets: In overseas trading, European markets fell. The London FTSE lost 0.6%, the French CAC 40 fell 0.9% and the German DAX lost 0.7%. Asian markets were mixed, with Japan's Nikkei little changed and the Hong Kong Hang Seng lower.
Market breadth was negative. On the New York Stock Exchange, losers beat winners four to three on volume of 930 million shares. On the Nasdaq, decliners beat advancers by five to four on volume of 1.91 billion shares.