How 3 small businesses stood up to larger competitors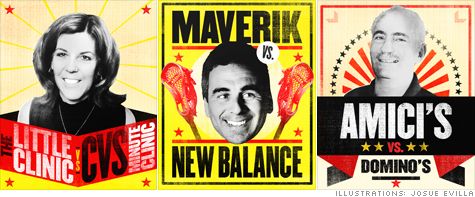 (Fortune Magazine) -- The Little Clinic vs. CVS MinuteClinic
The challenge: CVS (CVS, Fortune 500) continues to expand its MinuteClinics in its drugstores. They now have over 500 compared with the Little Clinic's 146 locations. How does the Little Clinic compete?
What they did: Founder Lisa Loscalzo, who launched the Tennessee-based Little Clinic in 2005, chose supermarkets for her clinics. The benefits? Long hours, good locations, pharmacies, and lots of foot traffic.
Loscalzo, 46, partnered with two well-known chains, Kroger (KR, Fortune 500) and Publix, which, she says, have ultraloyal customers. The clinics see walk-in patients for minor illnesses and flu shots. Each location has a dedicated staff, meaning you see the same people every time you visit. Says Loscalzo: "They're coming in to see Nancy Smith the nurse practitioner who works at my Kroger down the street." She won't give revenue figures, but the Little Clinic added 55 locations last year.
Maverik Lacrosse vs. New Balance
The challenge: Maverik, a lacrosse equipment maker, competes with New Balance, which owns two bigtime brands -- Warrior and Brine. How do you persuade players to go with the upstart?
What they did: John Gagliardi, 35, co-founder and president of New York City-based Maverik, has loaded his staff with players that the kids -- and coaches -- know and admire (including ex-members of Team USA). Gagliardi, a former pro and Johns Hopkins legend, also taps into the booming youth market by operating camps, where he tests and showcases his products.
A cool image is also important: Maverik's website features the top pros starring in edgy videos and offering up playing tips. Gagliardi also focuses on "lifestyle apparel" that gives the brand a "casual, cool, surf-snowboard dynamic" as opposed to the traditional prep-school vibe. He says sales were up 30% in 2009.
Amici's East Coast Pizzeria vs. Domino's Pizza
The challenge: Domino's (DPZ) can leverage its size to buy everything, from cheese to advertising, at much lower prices than operations like Amici's, which has 12 outlets in the San Francisco Bay Area.
What they did: Boston native and Amici's owner Peter Cooperstein, 54, can't beat his mega-size competitors at the profit margin game. But he can deliver his customers, many of them ex-"Pats" like him, a high-quality niche product.
In this case: a little taste of New England. Or, as he puts it, "pizza that reminds them of where they grew up." That means not skimping on ingredients, says Cooperstein: "We could save $600,000 a year by switching to a pretty-good-but-not-as-good cheese."
Pretty-good cheese aside, Amici's seems to be raking in the dough: Sales are now around $30 million -- more than half from deliveries. One big difference from the giant chains: Amici's sends only one pizza out at a time to keep them fresh.