Treasurys unmoved by Fed
NEW YORK (CNNMoney.com) -- U.S. debt prices rose slightly, but overall, trading was slow in the Treasury market Tuesday both before and after the Fed's announcement on interest rates.
What prices are doing: The benchmark 10-year note rose 12/32 to 99-12/32 and its yield dropped to 3.655%. The 30-year bond advanced 19/32 to 100-19/32 and its yield fell to 4.591%. Bond prices and yields move in opposite directions.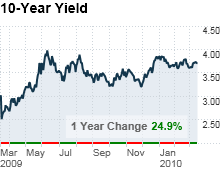 The 2-year note rose 2/32 to 99-30/32 with a yield of 0.92%. The 5-year note inched up 7/32 to 100-3/32 with a yield of 2.358%.
What's moving the market: Analysts weren't expecting a hike in interest rates, but rather, were looking specifically for any hints in the statement about future actions. And the Fed delivered no surprises there.
Fed policymakers say they remain committed to keeping the federal funds rate near 0% for an "extended period."
Thomas Hoenig, president of the Federal Reserve Bank of Kansas City dissented against the Fed's "extended period" language at the meeting, as he did in February.
The Fed has kept interest rates at near zero since December 2008.
What analysts are saying: No surprises from the Fed meant no major shifts for the Treasurys market, said Michael Cheah, a bond fund manager for SunAmerica. Investors in U.S. debt are looking for cues from the stock market, which posted only modest gains after the Fed's statement.
"The Federal Reserve is in a position where they both don't have to act, and they don't know where they want to go," Cheah said. "We're sitting and waiting, until they are forced to make a change."