Dollar falls on Fed statement
NEW YORK (CNNMoney.com) -- The dollar declined against major currencies Tuesday after the Federal Reserve said it will leave interest rates unchanged.
What prices are doing: The dollar fell 0.6% versus the euro to $1.3763 and dipped 1.3% against the British pound to $1.5246. The dollar was down 0.2% at ¥90.34 against the Japanese yen.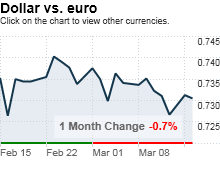 On Monday, the dollar gained versus the euro and the pound, but fell against the yen, as stocks ended the day mixed and investors continued to worry about finding a concrete solution for Greece's mounting debt.
What's moving the market: In its policy statement Tuesday, the central bank left key interest rates steady near zero and said rates should stay low for the foreseeable future.
Stocks climbed higher following the Fed's statement. Stronger equities typically pressure the dollar as investors turn to riskier assets.
Earlier, the Commerce Department said new home construction and building permits fell in February, but both readings beat economists' expectations.