Tiger Woods' return to benefit CBS, ESPN
NEW YORK (CNNMoney.com) -- Tiger Woods announced on Tuesday that he would make his return to golf on April 8 for the 2010 Masters Tournament, and media analysts say the broadcasters covering the event have reason to be giddy.
"One word: ka-ching!" said Tobe Berkovitz, professor of advertising at Boston University. "This is the jackpot for CBS, ESPN and the sponsors. The Masters is the premier golf event, and having Tiger come back will send ratings through the roof."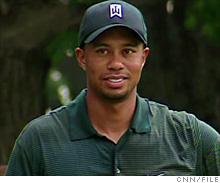 The Masters Tournament is scheduled for April 8-11, with the first and second rounds airing on ESPN and the final two rounds airing on CBS. The production for the whole event is operated by CBS.
Berkovitz said ratings could be up as much as 20% over last year's tournament. In 2009 the final round of the Masters featured a thrilling three-way tie and a sudden-death playoff, which snagged 14.3 million viewers, according to ratings tracker Nielsen Co.
At the NCAA basketball Media Day on Sunday, CBS News and Sports president Sean McManus told Sports Illustrated that the network expected astronomical ratings for Tiger's return.
"I think the first tournament Tiger Woods plays again ... will be the biggest media event other than the Obama inauguration in the past 10 or 15 years," McManus said. "It is hard to overestimate how much interest there will be. Tiger Woods is the most famous, most recognized, most accomplished athlete in the world, and his celebrity and prominence is even larger than it was."
CBS declined to comment on Tiger's announcement but said the network still stands behind McManus' comments to SI. ESPN echoed CBS' take.
"Tiger's return to competitive golf at this year's Masters Tournament will surely be one of the biggest stories the sporting world has seen," said John Wildhack, ESPN's executive vice president of programming and acquisitions.
Though Tiger Woods events always draw big TV ratings, interest in Woods peaked after he admitted to rumors of multiple affairs. More than 6.5 million viewers tuned in to watch his Feb. 19 public apology on the cable networks alone, according to Nielsen.
Turning ratings into profits
ESPN and CBS entered long-term marketing deals with major advertisers for the Masters Tournament long before the event was set to air, and the networks have already sold most of their advertising slots, according to advertising experts. As a result, the networks won't be able to charge Super Bowl-like rates to match the expected bump in ratings.
But CBS, ESPN and the sponsors still have much to gain from the ratings boost. Much of the added viewership will likely come from an atypical marketing demographic for a golf tournament, including non-golf fans who are interested in the tabloid aspect of the story.
"I'd expect a significant spike in viewership among non-golf viewers," said Mike Manzo, chief marketing officer for Openet, a provider of audience measurement solutions for cable operators. "They may be mixed about how they feel about him, but their viewership will be pretty high."
With new sets of eyes, sponsors will get more bang for their buck, and the networks will be sure to capitalize by promoting their programming.
"Besides giving CBS greater bragging rights for being the top sports network, this will help CBS get much higher viewership for its other shows," said Berkovitz. "The downside for CBS is that they can't just jam in 20 more ads."
Berkovitz said there is no way to predict how much more money CBS, ESPN or sponsors will make from the increase in viewership, because it's not possible to know if boosts in ratings for other shows or sales increases were due to viewers who saw promotions during Woods' comeback. But the greatest beneficiaries will likely be CBS' affiliate stations, which will likely get a sustained viewership bump for post-Masters programming.
Former CBS Sports President Neil Pilson said CBS will be able to command higher advertising prices for its coverage of this year's subsequent major PGA tournaments. Those events still have advertising slots to fill, and the ratings bump due to Tiger's return is still expected to be high.
This year's Masters sponsors include IBM (IBM, Fortune 500), Exxon Mobil (XOM, Fortune 500), Coca-Cola (KO, Fortune 500), AT&T (T, Fortune 500) and Mercedes. Longtime Masters sponsor Cadillac did not renew its sponsorship deal with the tournament this year.
Shares of CBS Corp. (CBS, Fortune 500) rose on Tuesday and shares of ESPN's parent, The Walt Disney Co. (DIS, Fortune 500), were unchanged.