Nigerian prince still wants your money
NEW YORK (CNNMoney.com) -- Internet fraud cases surged by 22% in 2009, and financial losses doubled compared to the year before as scammers took advantage of Americans rendered desperate by the recession.
The Federal Bureau of Investigation's Internet Crime Complaint Center said it received 336,655 complaints in 2009 with losses totaling $559.7 million. This is a substantial increase from 275,284 complaints in 2008, when the losses totaled $265 million.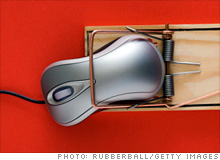 Dire financial straits have made Americans more vulnerable to big-ticket scams, said John Kane, manager of research for the Internal Crime Complaint Center.
"A certain level of desperation might sink in, and you might take that leap, where you wouldn't before," he said. "We've seen an increase in the number of complaints with fraud with a high price tag attached to them."
Also, he said that scammers are becoming savvier, stealing identities on social networking sites and propositioning your online friends for money.
"We're seeing that the criminals are using new and diverse tactics to reach out to people," Kane said. "They'll take over your account and then use your identity to ask money from friends for an emergency. Instead of coming from a stranger, it's coming from someone who is supposedly your friend."
He said the FBI has cracked down on fraudulent activity through auction sites such as eBay (EBAY, Fortune 500), but fraudsters have quickly moved on and been "setting up shop" on other popular Web sites, such as Craigslist.
"Criminals in some situations have figured out the algorithms used to get their Web sites listed very high in search links," he added.
The FBI also warned against scams that use its name in vain, which was the most popular type of Internet fraud last year. The agency reported that more than 16% of the complaints claimed an association with the FBI to win the trust of victims.
The second most widely used scam, comprising about 12% of complaints, involved "non-delivery of merchandise and/or payment," the FBI said. In this type of scheme, the fraudster requests payment for services or money that is never actually provided.
A long-running Internet scam involving a fictional Nigerian Prince is still in cyberspace, Kane said. In this scam, a "prince" promises vast riches in exchange for your banking information.
Most people don't fall for an obvious scam like that, but there are enough gullible victims to keep the fraudsters in business, he explained.
"It has been suggested by fraudsters that if they can get a fraction of a percent of responses to the millions of e-mails they send out, it could be very lucrative for them," he said.
He added that these days, you're more likely to be approached by fictional U.S. soldiers claiming to have discovered Iraqi palaces filled with gold. Like the prince, they promise countless riches in exchange for your banking information.