1.2 million 'unstable' Graco high chairs recalled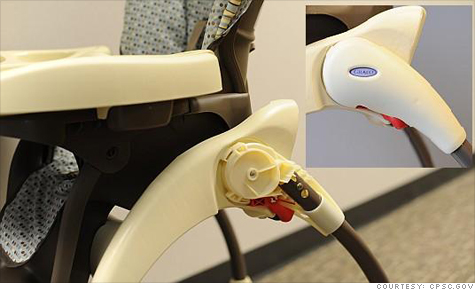 NEW YORK (CNNMoney.com) -- Graco Children's Products announced Thursday that it's recalling 1.2 million Harmony high chairs because of stability issues.
The company, a unit of Newell Rubbermaid Inc. (NWL, Fortune 500) that makes car seats, strollers, swings and other products for kids, said that its Harmony high chairs can be "unstable" and "tip over unexpectedly."
Graco said that 24 injuries had been reported for the high chair model, which was produced from 2003 to 2009 and retailed for $70 to $120.
The company, in a press release, said the screws holding the front legs of the high chair can loosen and fall out, and the plastic bracket on the rear legs can crack, presenting a hazard to children.
The chairs were sold at Target (TGT, Fortune 500), Toys R Us and Wal-Mart (WMT, Fortune 500).
In addition to the 1.2 million high chairs recalled in the United States, Graco said it is recalling 35,000 in Canada.
The company urged consumers to stop using the high chair and place orders for its free repair kits, consisting of two leg screws and a leg brace.
This is just the latest recall of the last few months, which have seen millions of children's products pulled of the market for safety hazards.
In January, Graco announced the recall of 1.5 million strollers because of the risk of finger lacerations and amputations.
Also this year, a separate of 635,000 cribs was announced by Dorel Asia SRL.
In November 2009, the Consumer Product Safety Commission announced the recall of 2.1 million cribs from Stork Craft Manufacturing. The federal agency said the cribs presented a risk of suffocation.
"First it was cribs, where children sleep, then it was strollers, which parents use to get their kids from point A to point B, and now you got high chairs, where children eat," said Mike Rozembajgier, director of recalls at ExpertRECALL. "So we've had significant recalls affecting every facet of children and parents' lives."
Rozembajgier, whose company has assisted companies in coordinating 1,500 recalls, said the most important thing for Graco to do is to have enough repair kits to meet the demand and to provide instructions on its Web site for how to use them.