E-voting to kill hanging chads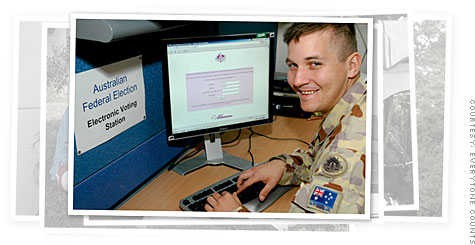 (CNNMoney.com) -- In 2003, Lori Steele watched as Arnold Schwarzenegger became California's governor in a recall. The zeal behind the off-schedule election impressed her.
"The recall made me realize how much people really care who their leaders are and that those leaders are effective, which made me think back to the serious voter dissatisfaction of the 2000 Presidential election," she says, referring to the infamous "hanging chads" debacle. "I began to think that better technology could provide transparent and accurate elections."
The idea: Steele, who was at the time working as a private wealth advisor at Solomon Smith Barney in San Diego, set herself an ambitious goal: abolishing the "extreme insecurity" of voting by paper and mail.
So in 2006, she raised the capital to acquire Everyone Counts, a small Australian electronic-voting services company that began as an online test-administering business in 1996.
"Everyone Counts had the best, most secure and transparent elections software I'd seen up to that point," Steele says.
She quit her day job and relaunched the company in San Diego. As the new CEO of Everyone Counts, she sketched out a game plan: create secure electronic voting programs to collect votes online and over the phone. That technology would let the company reach out to voters with disabilities, break into international election markets, and boost voting access in younger democracies.
The company's first round of fundraising lasted from 2006 into 2007 and brought in $1 million from angel investors. Everyone Counts is now closing its second round, which aims to raise $8 million in venture capital.
The risk: Critics worry about the security of e-voting. They fear that hackers can create fake online polling stations or infect PCs with ballot-altering software.
Steele counters that her e-voting software is as safe as other sensitive online applications, including those used by banks and the military.
"Think about your ability to conduct online banking," Steele says. "Banks have software that keeps your money safe."
Another e-voting challenge? The broad, diffuse customer base.
"You have small, heterogeneous markets all over the place," says Jonathan Katz, co-director of the Caltech/MIT Voting Technology Project. "In Los Angeles County, you might have 5 million voters. But in Cook County, Illinois, you have 2 million voters. Every one of these counties has very different voting needs and desires. That makes selling into each market very difficult."
The reward: In 2007, Steele took on a challenge that tested her company's mettle. The United Kingdom's Swindon Borough Council gave Everyone Counts three months to get customized telephone and Internet voting software running for a local election.
"The 2007 e-voting plan was the most complex that had ever been attempted in the U.K. We had just ninety days to go live," says Alan Winchcombe, former electoral manager for the council.
Steele's software took 11 minutes to count the votes. "To do the same process manually would require around 150 people working for four hours each and possibly miscount whilst doing so," Winchcombe recalls. A poll of the voters showed that 95% were confident in the e-voting system's security, he says.
In 2009, Everyone Counts conducted the first all-digital election in the United States, running neighborhood board elections online and by phone for the city and county of Honolulu, Hawaii.
Steele hopes that Everyone Counts, which brought in six-figure sales in 2009, will own at least 1% of the $16 billion global elections industry within the next five years.
Meanwhile, new frontiers are opening up. In Eastern Europe, the Republic of Moldova's national elections commission recently contacted Everyone Counts about a plan to enfranchise voters with disabilities. And in response to the Military and Overseas Voters Empowerment Act, which Congress passed last year, the U.S. Department of Defense is evaluating quotes from Everyone Counts and other voting service companies to extend e-voting to American personnel working abroad.