States launch their own health care cost assaults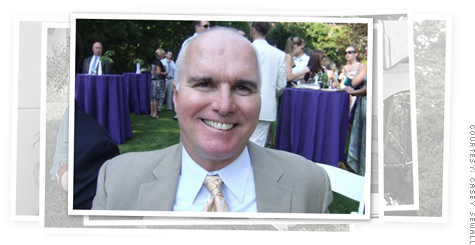 BOSTON (CNNMoney.com) -- While Congress is immersed in a fierce debate about the future of America's health insurance system, entrepreneurs from coast to coast face a crisis right now.
The 39% price hike Anthem Blue Cross of California recently whacked many of its individual policyholders with, touching off a national firestorm, didn't surprise Massachusetts entrepreneur Casey Sewall. It's the exact rate jump Blue Cross hit Sewall with in December for the HMO plan that insured his 15 workers.
"I thought, 'Geez, 39% must be the magic number,'" says Sewall, the president of Kahians Appliance One, a retailer in Hanover, Mass. "Our health-care system is upside-down. In most industries, companies don't like to lose customers, but Blue Cross gave me a take-it-or-leave it offer."
He left, switching to a Harvard Pilgrim plan, but his premiums are still 21% higher than they were last year.
Health insurance costs have long been a top complaint among small business owners. But every year the current system remains in place, the pain grows deeper. The Retailers Association of Massachusetts recently surveyed its members, most of whom run tiny businesses with 10 or fewer workers. Their average 2010 health insurance premium increase: a whopping 22%.
"Small businesses just don't have any leverage. We are second-class citizens," says Jon Hurst, the association's head.
Officials in some states aren't waiting any longer for Washington to come up with solutions.
Massachusetts Governor Deval Patrick, a Democrat seeking reelection this fall, has made small business health care cost relief a pet project. Last week, he rolled out proposed legislation that would give the state's Division of Insurance the right to reject rate hikes that far exceed certain benchmarks -- such as the consumer price index for medical services, which went up by 3.2% in 2009. President Obama has called for similar action on a national level.
"We are responding to an economic emergency," says Joseph Murphy, Massachusetts' insurance commissioner. "These proposed increases threaten to cripple small biz."
Massachusetts isn't alone in pushing for more regulation. In 2009, five states -- Connecticut, Florida, Georgia, Indiana and Ohio -- passed bills giving regulators prior approval over rate increases, bringing the total number of states with such oversight to 25.
Massachusetts' neighbor to the north, Maine, isn't on this list, and its entrepreneurs are also overwhelmed by skyrocketing health-care costs. Small business premiums rose an average of 15% in 2009 and 20% in 2010, according to a recent survey released by Maine's Division of Insurance.
Mila Kofman, Maine's insurance superintendent , is exasperated.
"The situation is unsustainable," she says. "Small businesses are central to our state's economy and they simply can't create jobs."
Colorado got prior approval in 2008, and the oversight seems to be helping a bit to hold down insurance costs. The state's average rate hike in the small business market was 16% in 2009 and 12% for 2010. But some policyholders are still suffering sticker shock: Anthem, the state's largest carrier in the individual market, raised rates by 25% this year.
"Prior approval is a tool, not a magic bullet," says Marcy Morrison, Colorado's insurance commissioner. "You also have to deal with the factors driving the increases." While rising costs of care and prescription drugs initially led Morrison to approve Anthem's sharp rate hikes, her office is now taking a second look at the case.
To gather more information about his state's health care woes, Massachusetts Governor Patrick has been holding a series of roundtables meetings with small business owners. Doug Waybright, CEO of The Nelson Companies, a commercial real estate firm in Waltham, Mass., participated in the session held at the Charles River Museum of Industry and Innovation in late February. Tufts Health is asking Waybright to fork over an additional 14% this year for the health coverage he provides for his 19 employees.
"Frankly, that's not as bad as I expected," Waybright says. "I suspect that we are faring better than most small employers because the bulk of our workforce is under 50 and relatively healthy."
Still, the increase translates to a $ 34,000 price jump.
"This means that to avoid a hit to our bottom line, we have to generate an extra $ 340,000 in sales this year," Waybright says. "It's highly stressful."
Dianne Autenzio, a resident of Woburn, Mass., who owns the Wilmington Pet Shop, took part in another summit in Lawrence in early March. Autenzio hasn't been to afford to pay any health expenses for her staff of six part-time workers, most of whom get coverage through their spouses. She herself has a bare-bones individual insurance policy from Fallon Community Health, which recently announced that her monthly premium would go from $490 to $690 -- a 35% increase.
"My first thought was that I might have to close the business," Autenzio says. "As it is, I am working more hours than I did 20 years ago."
She's trying to stick it out. Her plan year starts April 15th, and Autenzio is crossing her fingers that Governor Patrick's new legislation will pass before then. But there's little chance of that: The state legislature committee reviewing the proposed bill is working on a report that won't be finished until the end of April.
"Right now no one seems to have any control over what an insurance company can do," Autenzio says. "A cap on increases would make a huge difference for me."