Treasurys drop after auctions
NEW YORK (CNNMoney.com) -- Treasury prices continued falling on Wednesday after the latest auction of government debt.
What prices are doing: The benchmark 10-year note fell 1-7/32 to 98-9/32 and its yield rose to 3.84%. The 30-year bond fell 1-29/32 to 98-12/32 with a yield of 4.73%. Bond prices and yields move in opposite directions.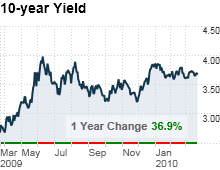 The 5-year note fell 24/32 to 99-2/32 with a yield of 2.58%. The 2-year note was flat at 99-26/32 with a yield of 1.1%.
What's moving the market: U.S. debt prices fell after a $44 billion issue of 2-year notes on Tuesday and continued to fall after an auction of 5-year notes on Wednesday.
Investors submitted bids totaling nearly $107 billion for $42 billion worth of 5-year notes. The bid-to-cover ratio, a measure of demand, was 2.55 -- down slightly from 2.75 at the previous auction in February.
The government also plans to issue $32 billion in 7-year notes on Thursday.
Investors who buy Treasurys, or U.S. debt, fund the government's budget deficits, and if they anticipate the government will soon be forced to pay higher interest rates to borrow, they may shy away from Treasurys at their current yields.
Wall Street typically sells off Treasurys in anticipation of an increase in interest rates, greater supply issues and inflation, as investors turn instead to corporate bonds or equities.
What analysts are saying: Investors are shrinking away from Treasurys over concerns about the Fed's exit strategy, European debt, the $118 billion issue of new notes this week and health care reform's $940 billion price tag, said Kim Rupert, a fixed income analyst with Action Economics.
"The market is growing a little bit concerned over multi-trillion dollar budget deficits and concerned that the new health care legislation is going to add tremendously to the deficit rather than be deficit neutral," she said.