Doctor-starved: America's heartland in crisis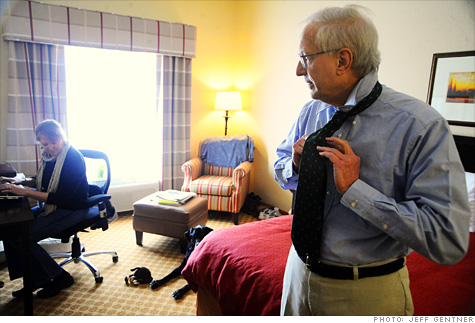 NEW YORK (CNNMoney.com) -- For one doctor practicing in America's heartland, the new health care law and its incentives to keep doctors on the farm is a start, not a solution, to the medical care crisis afflicting rural America.
"It's good that there will be an increase in Medicare and Medicaid payments to primary care doctors who work in underserved areas," said Dr. Downs Little. "But there is still a lot of work to be done."
For Little, 60, these new measures came too late.
Little, a primary care internist, closed his Lottsburg Va.-based practice on Dec. 31. Lottsburg, located in Northumberland County, is in one of the nation's designated Health Professional Shortage Areas (HPSA).
The decision to shutter his practice after 10 years left 1,200 patients scrambling to find a new doctor and his wife Mary, a former banker who became his office administrator, three part-time clinicians and a full-time receptionist out of a job.
Up until last year, Little said his "old-fashioned" practice had stayed competitive with the bigger hospitals in the area even though more than 70% of his patients were on Medicare.
Medicare typically pays doctors significantly lower than private insurers for comparable services.
Then the recession hit, badly bruising Lottsburg businesses and eroding jobs. "Our net revenue dropped 28% last year," said Little.
"What kept my business going all these years were the payments from my privately insured patients which subsidized the losses from Medicare," Little said. "I lost half of those patients in 2009 and I couldn't cover my losses and my business expenses," he said.
Downs' situation isn't an isolated one, he warned. "It's being repeated throughout rural America and in many areas that already have a shortage of doctors," he said.
Doctors shun the country life
The shortage of rural physicians is a "huge problem," said Dr. Howard Rabinowitz, professor of family and community medicine at Thomas Jefferson University's Medical College.
"About 20% of the population lives in rural areas but only 9% of physicians practice there," said Rabinowitz who has studied the issue for more than 30 years.
He said insufficient insurance payments, administrative hassles tied to insurance claims, and rising business and malpractice insurance expenses are among the most commonly cited reasons for why rural medicine is losing appeal among doctors.
The United States has about 66 million people living in areas, both rural and urban, that the government recognizes as underserved, according to the Department of Health.
The agency estimates that about 7,438 primary care physicians are needed to bridge this shortfall.
In addition, Rabinowitz said trends at medical schools are further exacerbating the rural medical care crisis.
Fewer people from rural areas are applying to go to medical schools, he said, and about half of the students from rural areas don't want to go back to their communities to practice medicine.
So every time a rural community loses one of its physicians, the impact is severe because these communities can't easily fill the doctor vacancy, Rabinowitz said.
"If five or 10 orthopedic surgeons leave a large metropolitan area such as Philadelphia, my guess is that none of their patients will have problems finding another doctor," he said.
But that's not true in rural areas. "If you lose one doctor in that community, people may have to drive 45 minutes to find another one," he added.
Little's former patients face exactly that scenario. He was the only primary care internist for a community of about 1,500. "The next closest internist is about 45 minutes to an hour away," he said.
"When you lose a primary care physician in a rural area, you lose the core basis of medicine," he said. "A country doctor is the complete physician because we cover a much broader array of medical issues for a community."
Will the new measures fix the problem?
"Nothing will fix everything," said Rabinowitz. "But if things get even marginally better, then people become more optimistic and may look for opportunities, even in rural areas."
At the same time, he said unless rural doctors are better paid, there's little hope of improving their numbers.
Medicare already gives a 10% bonus payment to physicians who provide care in certain types of doctor-starved communities.
Under the new health care legislation, beginning in 2011 and ending in 2015, those same doctors will receive an additional bonus depending on the type of care they provide.
"After 2015, Congress would have to act to make [the bonuses] permanent," said Dr. Lori Heim, president of the American Academy of Family Physicians (AAFP)
Additionally, all primary care physicians will now receive a Medicare payment bonus no matter where they practice as long as more than 60% of the care they provide is primary care in nature, according to the AAFP.
Since closing his practice, Little has been working part-time in other underserved areas.
For the past three months, Little, his wife and their dog Churchill Sunday have been living in hotel while he fills in as a primary care doctor at a community hospital in Bluefield, Va., some 400 miles from their home in Lottsburg.
"The irony is that I am making 50% to 100% more working part-time than I was in my practice," he said.
As a health care provider, how does the new health reform legislation impact you? Will it significantly change how you deliver patient care? E-mail your response to parija.bhatnagar@turner.com and you could be part of an upcoming article. For the CNNMoney.com Comment Policy, click here.