Treasury's Citi sale: TARP's last hurrah?
(Fortune) -- The government hit the jackpot with the Treasury's plan to sell its stake in Citigroup. Good thing, too, because the remaining bailed-out banks may be hard-pressed to pay taxpayers back this year.
Treasury said Monday it will sell its 7.7 billion Citi (C, Fortune 500) shares into the market over the course of 2010. The sales could bring the government more than $30 billion in proceeds and will move Citi, which repaid its Troubled Asset Relief Program loans in December, a step closer to cutting all its ties with TARP.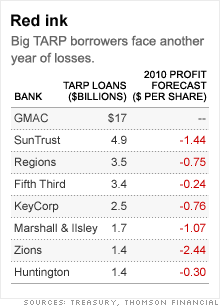 With the Citi sales and some other recently announced repayment plans, the government will have recouped more than $160 billion of the $204 billion it lent banks under the TARP capital purchase program.
But for all the happy news, TARP freedom may prove elusive for the biggest banks still in the program.
Eight banks, mainly regional lenders headquartered in the South and Midwest, still hold TARP loans of at least $1 billion. All have been losing money by the bucketful, and none is expected to turn an annual profit until 2011 at the earliest.
The bank with the biggest debt to Treasury is GMAC, the struggling auto lender turned home lender turned ward of the state. Other big banks still under the TARP include Regions Financial (RF, Fortune 500) of Alabama, Fifth Third (FITB, Fortune 500), KeyCorp (KEY, Fortune 500) and Huntington (HBAN) of Ohio and Zions (ZION) of Utah.
It's not that they're happy about being identified with an unpopular bailout plan. James Wells, CEO of SunTrust (STI, Fortune 500), the Atlanta-based lender that has taken $4.9 billion in TARP funds, told investors last September that the bank views its TARP borrowings as "very expensive debt." He added that the bank is eager to repay its government loans as soon as regulators sign off.
But with the big regional banks heavily exposed to the swooning commercial real estate sector, it's unlikely that such a sign-off is coming any time soon. SunTrust has lost money in five consecutive quarters. Analysts surveyed by Thomson Financial predict the bank will lose $1.44 a share this year.
"Profitability is a long way off," Janney Capital Markets analyst Stephen Moss wrote in a note to clients this month. "We doubt regulators will allow the company to repay TARP in the near future without a common stock offering."
Even TARP banks that aren't bleeding rivers of red ink may hold off on repaying their loans for now. M&T (MTB) Bank, the Buffalo-based lender whose two biggest shareholders are Allied Irish Banks (AIB) and Warren Buffett's Berkshire Hathaway (BRKA, Fortune 500), has been consistently profitable and, unlike many of its rivals, paying shareholders big dividends.
But analysts say it may be a while before M&T repays TARP, because they assume regulators would insist the bank raise $750 million in new capital to replace the same amount of TARP funds. That would be costly for shareholders whose holdings would be diluted.
Of course, last year showed the folly of confidently predicting the timing of TARP paybacks, given the program's unpopularity and the government's eagerness to get out of the bailout business.
A stampede to the TARP exits by the biggest banks last year prompted Wells Fargo (WFC, Fortune 500) and Citi to repay their loans earlier than many observers had forecast.
Since then, big TARP borrowers have continued repaying their loans at a dizzying clip. Dallas-based lender Comerica (CMA) sent Treasury a $2.3 billion check last month, and credit card issuer Discover (DFS, Fortune 500) and insurer Hartford (HIG, Fortune 500) set plans to repay their loans earlier this month.
But some bankers confronting big losses have been frank about the improbability of a near-term exit from TARP. One such plain talker is Greg Smith, the chief financial officer at Milwaukee-based Marshall & Ilsley (MI), which posted $2.8 billion in losses over 2008 and 2009.
"I think if we called any of the powers that be about wanting to talk about our current TARP repayment strategy they would rightfully hang up on us," he said last month.