Treasurys rise on weak jobs data
NEW YORK (CNNMoney.com) -- Treasurys rose Wednesday after a report showed an unexpected decline in jobs, pushing investors to pull back on riskier assets and turn to the safety of government debt.
What prices are doing: The benchmark 10-year note rose 8/32 to 98-11/32, driving the yield down to 3.83% from 3.86% late Tuesday. Bond prices and yields move in opposite directions.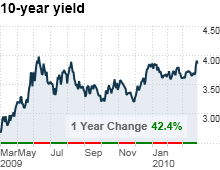 The 30-year bond rose 14/32 to 98-20/32 with a yield of 4.72%. The 5-year note edged up 17/32 to 99-25/32 with a yield of 2.56%. The 2-year note edged up 21/32 to 99-31/32 with a yield of 1.02%.
What's moving the market: Investors flocked to Treasurys for their safe-haven appeal following a report from payroll processing firm ADP that showed private employers shed 23,000 jobs in March.
Though the decline was the smallest since February 2008, it surprised economists, who were expecting employers to add 40,000 jobs during the month.
The unexpected drop prompts investors to doubt the upbeat estimates for the March employment report due Friday from the Labor Department.
Economists expect employers added 190,000 jobs during the month, which would be the biggest gain since March 2007.
What investors are saying: "Investors are focusing on employment data and are trying to gauge what might come out at the end of the week," said bill Larkin, portfolio manager at Cabot Money Management. "The disappointing ADP report added money into Treasurys."
But Larkin warned Treasurys could lose steam ahead of Friday's jobs report.
"The economy has been gradually improving, and investors know that employment will be the last phase," he said. "Even if we see nominal employment growth, the Federal Reserve could lift interest rates from zero, and that will spark inflation fears among investors."