Irish bailout fallout -- in Buffalo?
(Fortune) -- Citigroup is not the only big bank that may soon have a flood of shares hitting the market.
M&T (MTB), the big Buffalo-based regional bank lauded by Warren Buffett, could also have a big chunk of its shares for sale. The bank's biggest shareholder, Allied Irish Banks (AIB), set plans Tuesday to sell its stake in M&T by year-end after Irish regulators told it to fill a $10 billion capital hole.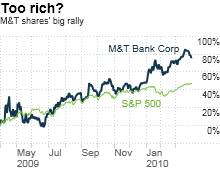 Allied Irish holds nearly a quarter of M&T's stock, and a sale would raise $2.1 billion at current prices. A big stake in M&T, the 28th-biggest U.S. bank holding company and one of the industry's strongest players, could draw attention from expansion-minded banks overseas.
But M&T's premium stock price and the conditions attached to a sale could make it tough for Allied Irish to find another big institution to take the stock off its hands. That could put pressure on a stock that's up 172% from last year's low.
JPMorgan analyst Steven Alexopoulos wrote in a note to clients Wednesday that it's likely AIB's stake will be sold on the open market and not to another bank. He has a neutral rating on the stock.
Unlike Citi (C, Fortune 500), which learned this week that the government would dispose of its massive bailout-related stake in the bank over the course of 2010, M&T has been a superior performer for years.
M&T hasn't lost money in a quarter since 1976 and is one of only two banks in the S&P 500 to maintain its dividend throughout the financial crisis that started in 2007. The other is Hudson City Bancorp (HCBK).
As solid as that performance is, M&T chief Robert Wilmers lamented in his 2009 letter to shareholders that the bank was lured into $845 million of needless losses over the past three years "by the siren song of ... greater risk." He said much of the losses stemmed from ill-advised bets on the residential mortgage markets.
Even so, the market has accorded M&T an unusually high valuation. The stock trades at more than 130% of book value, or assets minus liabilities, and nearly three times tangible book value, which reflects what the company would be worth in a fire sale. Most regional banks trade at valuations much closer to their book value.
The stock "is richly valued on a fundamental basis," Janney Capital Markets analyst Rick Weiss wrote in a note to clients Wednesday. He rates the stock neutral.
M&T's pricey shares could deter other big banks from taking a flier on M&T, given the many opportunities to buy into banks on the cheap through the Federal Deposit Insurance Corp.'s failed-bank resolution process -- as M&T itself did last year.
What's more, M&T will have some input on the sale process, thanks to a 2003 agreement it signed when Allied Irish became its biggest shareholder. The deal gives the bank the right of first refusal on a sale of the entire stake, among other things.
"We will continue working together with AIB under the terms of our agreement to achieve an orderly transfer that is in the best interest of all stakeholders," M&T said in a prepared statement.
The lack of a single buyer for the AIB stake could pull M&T's stock price down as investors brace for an onslaught of newly registered shares.
But with insiders controlling a fifth of the stock and Allied Irish having made its intentions clear, the short-sellers who have been betting against the stock in droves could lock in some of their gains by buying the stock. Shorts hold approximately 15% of the available shares, a fairly large amount.
Ironically, JPMorgan's Alexopoulos noted that "could actually limit downside." M&T's stock was flat Wednesday after falling 1.5% Tuesday.