Dollar dips amid high hopes
NEW YORK (CNNMoney.com) -- The dollar was mostly down against major currencies on Thursday as investors absorbed jobs and manufacturing data.
What prices are doing: The dollar fell 0.5% on the euro to $1.357 and 0.6% on U.K. pound to $1.527. It strengthened 0.4% versus the Japanese yen to ¥93.841.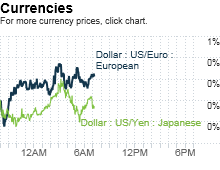 What's moving the market: The greenback lost earlier gains on the euro and British pound and rose against the yen, after upbeat jobs and manufacturing reports boosted investors hopes for a strengthening economy, lessening the appeal of the dollar as an investment.
The Labor Department said that initial jobless claims for the week ended March 27 fell by 6,000, more than economists surveyed by Briefing.com expected.
A separate report from the Institute for Supply Management's (ISM) said that Manufacturing activity grew for the eighth straight month in March, at the fastest rates since July 2004.
This helped push the Dow, Nasdaq and S&P 500 to new 18-month highs. Investors view the stock market as a indicator of strength or weakness in the economy. A rising stock market tends to send the dollar down against major currencies, as traders flee safe haven currencies (like the dollar) for riskier ones.
What analysts are saying:Still a lot of Thursday's weakness in the dollar was related to traders hedging their bets ahead of Friday's much anticipated non-farm payrolls data from the government and the long holiday weekend.
Although economists expect the Labor Department's Friday report to show that the U.S. added 190,000 jobs in March, Vassili Serebriakov, a currency strategist for Wells Fargo, says that traders are still hedging their bets.
"There's a tendency to cut back on risk in the face of uncertainty," he said. "It's an economic report; so, it can surprise."
Serebriakov says that the run-up in the stock market had "some impact" on the dollar's weakness against the euro. But the real impact was coming from increased euro buying overseas which bolstered the European currency in afternoon trading.
"The Swiss national bank has been intervening in the currency markets for the last few months to prevent excessive appreciation of the Swiss franc against the euro," he said.
The British pound continued to benefit from a better than expected GDP report from the U.K. government on Tuesday. The yen fell to a 7-month low on the dollar in afternoon trading.