March jobs report shows growth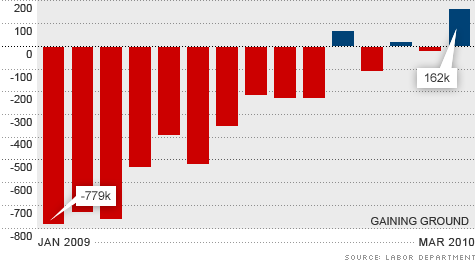 NEW YORK (CNNMoney.com) -- The U.S. economy gained more jobs in March than any other month in the last three years, according to a government report released Friday.
The Labor Department said the economy gained 162,000 jobs in the month, compared to a revised reading of a 14,000 job loss in February. That makes March only the third month of gains since the recession began.
Economists surveyed by Briefing.com had forecast a gain of 184,000 jobs. But despite missing forecasts, the March number was generally not seen as a disappointment by economists, because revisions in January and February readings added a combined 62,000 additional jobs.
The unemployment rate remained stubbornly high, holding steady at 9.7%, matching economist expectations.
"The third increase in jobs in the past five months indicates that the labor market has begun to stabilize," said Sung Won Sohn, professor at California State University Channel Islands. "However, a sustained gain in employment is some time away."
While the news was positive, there were a number of short-term factors that inflated the reading, including an addition of 48,000 by the Census Bureau as it geared up for the once-in-a-decade headcount of the U.S. population. Some economists had feared that even more of March's gain would be due solely to Census hiring, so the modest gain was viewed favorably.
March's job gain was also bolstered by weather factors -- February's numbers had been depressed by temporary job losses related to severe winter storms last month.
Still, the report was good news overall for an economy that has suffered a net loss of 8.2 million jobs since the start of 2008, a month after the official start of the recession.

"Employers aren't looking at this and saying, great it's over, I can go hire," said Tig Gilliam, CEO of Adecco Group North America, a unit of the world's largest employment staffing firm. "But it's moving in the right direction."
President Obama trumpeted the report Friday, saying it is a sign that the stimulus package passed a year ago has reversed the loss of about 700,000 jobs a month that was taking place at that time.
He appeared Friday at a company in Charlotte, N.C., that makes membranes for lithium batteries. It received a $50 million matching grant from the $787 billion stimulus program last year, to expand one facility there and open another elsewhere in the state.
"Government can't reverse the toll of this recession overnight, and government on its own can't replace the 8 million jobs that have been lost," he said. "The true engine of job growth in this country has always been the private sector. What government can do is create the conditions...for companies to hire again."
He said many Americans are still suffering from the job losses of the last two years. But he said despite the damage done to the labor market during the recession, the economy is poised to start adding the jobs people need.
"What we can see here, at this plant, is that the worst of the storm is over; that brighter days are still ahead," he said.
Republican National Committee Chairman Michael Steele issued a statement saying the jobs gain in Friday's report is not a sign of economic health.
"No matter what spin the White House puts on these job numbers, it is unacceptable for President Obama to declare economic success when unemployment remains at 9.7% and a large portion of the job growth came from temporary boost in government employment," he said.
A rising tide
Perhaps the most encouraging sign in the report was that the gains were spread across various sectors of the economy -- 60% of industries added jobs -- the most widespread gains seen across the economy in four years.
That rising tide of hiring brought relief to some long-suffering sectors of the economy. Construction added 15,000 jobs, the first increase of any kind in the sector since June 2007. Manufacturing also added 17,000, with 2,500 of that gain coming at auto plants and their parts suppliers.
Retailers added nearly 15,000 jobs and leisure and hospitality accounted for 22,000 more jobs.
"In a word, it's a resilient recovery," said Lakshman Achuthan, managing director of Economic Cycle Research Institute. "All these areas are stabilizing and moving forward. That's the hallmark of a recovery."
A deep hole
While the report was good news for job seekers, it also contained sobering readings for the depth of labor market pain that has built up over the last two years.
There are 15 million people counted as unemployed, down 607,000 since the record high hit in October, but still the fifth highest total on record. The average time those unemployed have been out of a job now stands at just under eight months, a record-long duration.
"For those laid off, unemployment is stretching longer and longer and putting severe distress on families," said Christine Owens, executive director of the National Employment Law Project, a New York-based advocacy group for the unemployed. "The long slog of looking for work and surviving on jobless benefits is going to continue for millions of Americans."
Almost 1 million more have become so discouraged that they've stopped looking for work altogether and are no longer counted in the unemployment rate.
But the number of discouraged job seekers fell by just over 200,000 since February, an indication that job seekers are also sensing an improving market and are again looking for work.
"Right now is the time when you're not wasting effort to hit the pavement," said Achuthan. "Employers do want to hire."
The average hourly work week crept up 0.1 hours in March, an indication that employers are restoring the hours of employees who had their shifts and pay cut during the recession. But there are still 9.1 million people working part-time jobs who want to be working full-time, up more than 250,000 since February.
The average hourly wage slipped 2 cents to $22.47. But the longer average work week lifted the average weekly paycheck by $1.57 to $763.98.
Taken as a whole across the economy, that will put more money into consumers' pockets and help spur more spending, which in turn should produce more hiring into the future.