Treasurys rise ahead of earnings reports
NEW YORK (CNNMoney.com) -- Treasurys edged higher Monday, as investors awaited the start of the quarterly reporting period, with Alcoa due to post results after the closing bell.
What prices are doing: The benchmark 10-year note rose 10/32 to 98-6/32 driving the yield down to 3.85%.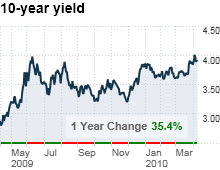 Bond prices and yields move in opposite directions.
The 30-year bond rose 15/32 to 98-11/32, and its yield fell to 4.71%.
The 2-year note rose to 99-29/32 and yielded 1.05%. The 5-year note rose to 99-5/32 and yielded 2.6%.
What's moving the market: With little on tap Monday, analysts say investors are in a holding pattern.
The Treasury Department's $53 billion auction of 3- and 6-month bills on Monday is likely to receive strong demand, but the latest bailout news in Greece may offset any gains.
Meanwhile, investors continue to take their cues from the U.S. stock market and overall trends.
Stocks were clinging to early gains amid ongoing jitters about the economy after an influential economists' group said it was "premature" to call an end to the recession.
What analysts are saying: As major companies begin issuing quarterly reports this week, investors will be closely watching to see what is said about the remainder of the year. If companies offer lukewarm forecasts, investors will likely to turn to buying U.S. debt.
Because they're backed by the government Treasurys are seen as a "safe-haven," or lower risk investment in times of economic uncertainty. And with 10-year note yields still near the 4% mark, Treasurys are fairly attractive given the headwinds facing stocks, said Scott Anderson, a senior economist at Wells Fargo."There's a little more caution creeping into the stock market," he said.
Looking ahead: Traders craving a little more action in the Treasury market will likely have to wait until Wednesday, which brings the latest Consumer Price Index numbers -- an indicator of inflation -- as well as advance retail sales, business inventories and the Federal Reserve's Beige Book.
Until then, Treasurys will likely remain in a narrow range, said Kenneth Naehu, managing director and head of fixed income at Bel Air Investment Advisors.