Palm stock soars on takeover talk
NEW YORK (CNNMoney.com) -- Palm Inc. shares surged almost 18% on Monday after reports that the struggling smart-phone maker will put itself up for sale this week.
A Bloomberg article, citing three people familiar with the situation, said Palm (PALM) had hired Goldman Sachs and Qatalyst Partners to find a buyer. The report said Taiwan's HTC Corp. and China's Lenovo Group may make offers.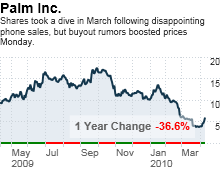 Palm did not respond to a request for comment. The company's shares closed 17.8% higher at $6.08.
Sunnyvale, Calif.-based Palm has struggled to retain market share over its competitors Research in Motion (RIMM), Apple (AAPL, Fortune 500), Nokia (NOK) and Motorola (MOT, Fortune 500) after disappointing sales of its Pixi and Pre phones. Palm stock plunged in late March and is down almost 50% over the last 3 months, even with Monday's jump.
"Palm was up against some major competitors with a lot of money," said Matthew Thornton, senior analyst at Avian Securities. "They had attention a few months ago, but their marketing wasn't compelling and the release of the [Motorola] Droid really took the shine off Palm."
Two analysts cut their price targets to $0 for Palm last month after the company reported a bigger-than-expected quarterly loss.
Investors had been worried even before the March downgrades. In an effort to reassure shareholders, Palm announced in February that it had $500 million in cash on its balance sheet. But analysts said they expected that cushion to disappear quickly as the company tried to boost flagging sales.
Thornton said a company looking at Palm might be attracted by the company's operating system, patents, brand name or relationships with U.S. wireless carriers. He said the best fit is probably a foreign company looking to break into the U.S. smart phone market.
If Palm does not find a buyer, the company "has one more chance to get this right," Thornton said. "They would really need a standout next generation of products in order to survive on their own."
"The bottom line is, Palm needs help," he added.