Walls you can eat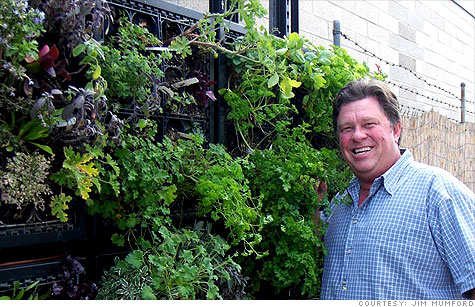 SAN DIEGO (CNNMoney.com) -- Mario Batali decided last year to install a garden between his adjoining West Hollywood restaurants, Osteria Mozza and Pizzeria Mozza. But a plain old backyard patch wouldn't do. Batali wanted something more visually striking, something more ... vertical? So he turned to Jim Mumford, the owner of Good Earth Plant and Flower Company in San Diego.
Mumford, 52, had built a reputation as a nontraditional gardener. In March 2007, he embarked on a "giant experiment," replacing the 1,800-square-foot roof of a commercial building he owned with a planter's paradise: three inches of specialized, lightweight soil over a padded waterproofing and drainage system. Now, 46 varieties of plants thrive there, alongside footpaths and faux boulders.
When customers saw Mumford's urban oasis, they started asking him about rooftop vegetable gardens. He wanted to help them, but the idea wasn't practical.
"You would need to either harness yourself or build a 42-inch wall around the edge so you don't fall off while working there," he says. "Also a vegetable garden requires more soil and water, so now you have weight issues, too."
But building gardens on a wall -- now that was something Mumford could do.
And the timing was ripe, says Caron Golden, the culinary blogger behind San Diego Foodstuff.
"Most restaurants in urban spaces don't have the room for a big garden. But at the same time, there is this growing emphasis on eating what's grown locally," Golden says. "When you think of all the crawling plants that grow on walls, this is actually not as strange as it sounds."
Mumford now builds "edible walls" from modular boxes that look like shallow milk crates. Each box is two feet square and eight inches deep, with a fabric pouch of soil inside. To start a garden, he pushes small plants into the soil through slits in the fabric. After about eight weeks, the plants have filled out and anchored themselves. The crates are mounted onto a rack and fitted to the side of a building. Mumford charges about $50 a square foot for residential customers and between $150 to $200 a square foot for commercial ones.
Edible walls are a gamble for Good Earth, which took in just over $1 million in revenue last year. Unlike the handful of other U.S. garden companies trying similar projects, Mumford is working in an area of the country where water can be scarce. On top of that, the recession has slowed the pace of new construction. So far Mumford is getting more calls than clients, though interest from companies like Qualcomm, which hopes to put an edible wall in a new cafeteria several years from now, gives him hope that the idea will take off.
He's already scored one very satisfied customer: Mario Batali, whose wall spans 72 square feet and includes 324 plants, most of them herbs like mint, chicory, rosemary and sage. Mumford included beets, too, not for the vegetable itself but for the plants' lush green and purple leaves.
"It's all edible, all delicious and most significantly, all very beautiful," says Batali. "And it smells really good, too."