Stocks hang on to gains
NEW YORK (CNNMoney.com) -- Stocks ended positive Thursday to close a volatile session, as investors took the latest jobless claims report in stride and Google reported much better-than-expected earnings after the closing bell.
The Dow Jones industrial average (INDU) added 21 points, or 0.2%, to close at 11,144.57. The S&P 500 index (SPX) gained 1 point, or 0.1%, to end at 1,211.67. The Nasdaq composite (COMP) was up 11 points, or 0.4%, to end at 2,515.69.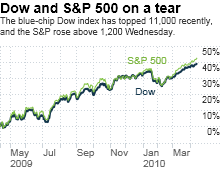 Stocks had sold off earlier in the session after the jobless claims report, which showed a surprise surge for the second week in a row. But the Labor Department attributed the jump to "technical" issues, including the Easter holiday. The indexes churned throughout the day.
"Holidays are always an issue, so the market will probably discount this [report] over time," said Fred Dickson, chief market strategist at D.A. Davidson & Co. "Of course, if next week shows another bad number, three weeks of downbeat data can't be explained away."
Stocks soared Wednesday on strong earnings and retail sales. The Dow and the S&P 500 both rose to their highest levels in more than 18 months, while the Nasdaq topped the 2,500 mark for the first time since June 2008.
"While these levels are mostly psychological, they're still road signs along the highway of a bull market," Dickson said.
Jobless claims: Labor Department's weekly jobless claims report said there were 484,000 new claims filed last week, up 24,000 from the previous week.
That was the highest level since the week ended Feb. 20 -- a disappointment to economists, who had expected new claims to fall to 440,000.
Companies: After the closing bell, Google (GOOG, Fortune 500) reported quarterly sales and profit that trumped expectations. The search giant's net income was $1.96 billion, or $6.06 per share, in the first quarter, up 38% $1.42 billion from the same period last year.
Analysts surveyed by Thomson Financial expected only $6.60 per share. Google shares rose 1% in after-hours trade.
"At this point in the year, the focus is really on earnings news," said Dickson. "With strong reports from JPMorgan (JPM, Fortune 500) and Intel (INTC, Fortune 500) earlier this week, more good data would be a really nice start to the earnings season."
UPS (UPS, Fortune 500) pre-reported its quarterly results late Wednesday. The parcel delivery service said earnings per share jumped 33% to 53 cents, compared to 40 cents in the first quarter of last year. Shares rose 5.2%.
Toyota (TM) said it is conducting safety tests on all of its sport utility vehicles after suspending worldwide sales of its Lexus GX 460 over rollover concerns.
After the bell, news reports said the Securities and Exchange Commission is investigating whether Hewlett-Packard executives paid nearly $11 million in bribes to secure a contract from a Russian official's office. Shares of HP (HP) fell 27 cents, or 0.5%, $54.25 in after-hours trade.
Economy: Government figures showed that capacity utilization increased to 73.2% in March from 72.7% the previous month, slightly missing analysts' expectations of a jump to 73.3%.
The Philadelphia Federal Reserve's regional manufacturing index jumped to 20.2 in April from 18.9 the previous month. Economists expected a reading of 20.
A report from RealtyTrac said there were more than 930,000 foreclosure filings in the first quarter of 2010, up 7% from the previous quarter and a whopping 16% jump from the year-earlier quarter.
Greece: Investors were also on edge as Greek bond yields spiked. Later this month, Athens plans to hold a sale of U.S.-dollar-denominated bonds, and analysts worry the demand could be smaller than anticipated.
The report revived lingering worries that Greece will require more aid to stave off a possible default, though concerns were tempered earlier this week after from European Union officials announced a plan to provide an additional $40 billion in low-cost loans for the debt-stricken nation. The International Monetary Fund agreed to kick in $13.5 billion.
But the outlook for Greece still remains fraught, and whenever the nation's plight is in the news, investors tend to punish the euro and other investments that are considered high risk.
"When the euro slips, that's not necessarily good news for U.S. markets," Dickson said. "The American stock market definitely looks to take a cue from European shares."
Outlook: Dickson said he expects a continued upward trend over the coming weeks, with some small dips scattered throughout.
"We haven't hit the speed limit on this rally, but we're getting close," Dickson said. "Any excuse for a pullback, like some downbeat earnings, could create speed bumps."
Dickson added that many investors and fund managers have cash on their books and are looking to step off the sidelines. With interest rates at continued lows, equities are an increasingly attractive place to plunk their cash, he said.
World markets: European shares ended slightly higher. The FTSE 100 in Britain, France's CAC 40 and Germany's DAX added a few points.
In Asia, Japan's Nikkei jumped 0.6% and the Hang Seng in Hong Kong rose 0.2%.
A report from China's National Statistics Bureau showed the nation's economy surged nearly 12% during the first quarter compared with a year earlier. China's gross domestic product, the broadest measure of economic activity, was up 1.2% from the fourth quarter of 2009.
Currencies and commodities: The dollar was up versus the euro, but it fell against the British pound and Japanese yen.
The price of oil dipped 34 cents to settle at $85.50 a barrel. Gold prices added 70 cents to settle at $1,159.70 an ounce.
Bonds: Prices for U.S. Treasurys rose, with the yield on the 10-year note at 3.85%. Bond prices and yields move in opposite directions.