General Electric eyes profit growth for 2010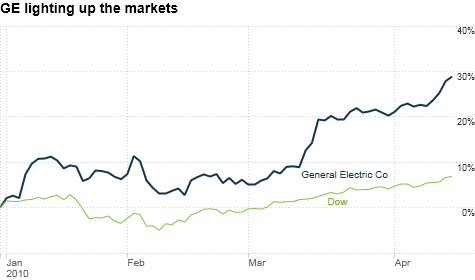 NEW YORK (CNNMoney.com) -- General Electric reported quarterly earnings and revenue Friday that fell from year-earlier results, but the company said it expects an improving economy will help its profit rise throughout the rest of the year.
The Fairfield, Conn.-based conglomerate said its first-quarter sales fell 5% to $36.6 billion, missing the forecast of analysts polled by Thomson Reuters of $37.1 billion.
Net income fell 31% to $1.9 billion after GE took a loss of $390 million from discontinued operations. Earnings from GE's continuing operations fell 18% to $2.3 billion, or 21 cents per share, for the period ended March 31. Analysts forecasted earnings of 16 cents per share.
Shares of GE (GE, Fortune 500) fell nearly 3% to $18.90. Before the markets opened Friday morning, shares had topped $20 for the first time since October 2008, before falling below the mark again.
"GE's environment continued to improve in the first quarter of 2010," said Jeff Immelt, GE's chief executive, on a conference call with analysts. "We are expanding industrial margins and realizing benefits from over two years of restructuring, while increasing investment in [research and development] to drive profitable organic growth."
Immelt said the company expects earnings to grow for the rest of 2010, but GE may take more cost-cutting measures to improve profit growth even more. The company did not give any specific guidance, but said improvements at its finance arm, GE Capital, might help GE outperform its previously dislcosed broad "framework" for the year.
As the economy improved, GE said orders rose in its health care and energy businesses, and the company increased spending on research and development by 16% in the quarter. Overall, orders fell 8% to $17.1 billion, but orders outside the United States are picking up, and the company's equipment and services backlog held at a robust $174 billion, suggesting sales will rise in future quarters.
GE is also continuing to increase its cash reserves to give the company more financial flexibility. In the first quarter, GE set aside another $19.5 billion, putting the company's reserves very close to a historic high. The company said it may use the cash for stock repurchases or strategic acquisitions.
The CEO reiterated his statement from the prior quarter that the company expects to increase its dividend in 2011. GE had slashed its dividend 68% to just 10 cents per share in February 2009 as the recession cut into the conglomerate's financial results.
One analyst said the signs were pointing in the right direction, but GE should be cautious about its outlook.
"For the past ten years, it's been a constant case of 'We didn't do well in this quarter, but we'll do better in the future,' and the stock has been cut in half because of it," said Peter Cohan, a venture capitalist, management consultant and GE shareholder. "GE has to be very careful. If it over-promises and under-delivers, the stock is going to get killed again."
GE Capital
The improving economic environment and credit markets also helped GE Capital, which continued to stabilize in the quarter. GE Capital's mortgage-related losses continued to decline and the division turned a profit. Immelt said the finance unit is on track for earnings growth for the foreseeable future.
Sales at GE Capital, which account for more than a third of the company's overall revenue, fell 10% to $12.3 billion in the quarter. The unit was again profitable in the fourth quarter, earning $607 million. That was down 41% from the same period last year but up nearly 80% from the previous quarter.
The company's commercial real estate business continued to get slammed, losing another $403 million in the quarter. GE's management said those losses would continue for the foreseeable future but said GE would have no problem absorbing them.
"GE Capital losses seem to have peaked," Immelt said. "We are originating new business at attractive margins and our funding costs have declined. Commercial real estate continues to be challenging, but the risks are understood and we expect them to be manageable."
Industrial business steady
Sales fell modestly in most of the company's segments last quarter, though profits largely tumbled.
The exception was the company's energy infrastructure business, which continued to grow more profitable, as it had even throughout the recession. While sales fell 5% to $8.7 billion, profit rose 12% to $1.5 billion.
The other business that buoyed GE through the recession, the technology infrastructure unit, didn't fare quite as well. Sales fell 9% to $8.7 billion and earnings dropped 18% to $1.4 billion. Almost all of those declines were due to GE's aviation business, which struggled in the quarter.
The small home and business division - formerly called the consumer and industrial division - posted a 58% surge in profit to $71 million as sales grew 1% to $1.9 billion.
NBC Universal's revenue rose 23% to $4.3 billion, but profit declined 49% to $199 million after taking a hefty loss from its coverage of the Winter Olympics in February. The network also had to paid former "Tonight Show" host Conan O'Brien and his staff $45 million in a widely publicized settlement.
GE is set to sell a majority stake in NBC Universal to cable giant Comcast (CMCSA, Fortune 500), pending regulatory approval.
After a miserable 2009 in which GE was the second-worst performer in the Dow Jones industrial average, shares of GE have been on a tear in 2010, rising 29% this year, compared to the Dow's 7% rise.
GE's stock is the third best Dow performer of the year, just behind Boeing (BA, Fortune 500) and Bank of America (BAC, Fortune 500), which also reported its financial results Friday.