It's time to add Apple to the Dow
NEW YORK (CNNMoney.com) -- Apple is no longer some plucky tech underdog scrambling to catch up with Microsoft. So isn't it time for the company to join Microsoft in the venerable Dow Jones industrial average?
The turnaround at Apple (AAPL, Fortune 500) over the past decade is nothing short of remarkable. The company has gone from being a niche maker of computers favored mostly by graphics designers and college kids to a consumer electronics giant that has irrevocably changed both the telecom and media industries.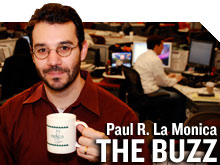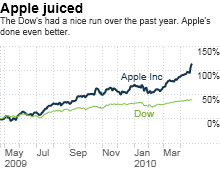 As a result, Apple's market value is now about $245 billion. That's larger than 28 of the 30 Dow components. Only Exxon Mobil (XOM, Fortune 500) and Microsoft (MSFT, Fortune 500) are worth more. And the gap between Apple and Microsoft is shrinking fast -- Microsoft's market value is approximately $270 billion.
"It's not inconceivable that Apple could be in the Dow. At this market value, it's hard to ignore," said Sunil Reddy, portfolio manager with Apex Capital Management, a Dayton, Ohio-based investment firm that owns shares of Apple.
I've suggested that Apple could be a candidate to join the Dow in numerous columns over the past few years in which I called for GM, AIG and Citigroup to be kicked out. (They all are now former Dow members by the way.)
But now more than ever, Apple merits serious consideration.
Sure, critics may scoff that the company's market value is unsustainable, a reflection of an insane amount of hype surrounding the stock in the wake of the iPad launch and continued success of the iPhone.
Apple's growth eventually has to slow down. Sales rose almost 50% from a year ago and profits were up nearly 90% in its latest quarter. Can a company of Apple's size really keep growing at that breakneck pace?
Maybe. Maybe not. But that's not the point. I'm not suggesting that Apple should be added to the Dow because the Dow needs a faster growing company to juice its performance.
The Dow is not a mutual fund. It's purpose, according to the Dow Jones Indexes Web site, is to "provide a clear, straightforward view of the stock market and, by extension, the U.S. economy."
If that's the case, shouldn't Apple be in the Dow? Even when Apple's growth inevitably slows, it's now so big that it's arguably a much more important company than other Dow components.
Apple's estimated revenue for calendar 2010 is $61 billion. That's higher than the expected sales for 14 other companies currently in the Dow -- including other brand name consumer firms such as Walt Disney (DIS, Fortune 500), Kraft (KFT, Fortune 500), Coca-Cola (KO, Fortune 500) and McDonald's (MCD, Fortune 500).
(Apple's fiscal year ends in September but I looked at calendar estimates for it and the other Dow components in order to make, uh, apples-to-apples comparisons.)
So how likely will it be that the editors at the Wall Street Journal, who are in charge of selecting and removing stocks from the Dow, decide to name Apple to that select club of 30 stocks?
It probably won't happen as soon as it should. For one, changes in the Dow mix are kept to a minimum and the WSJ editors are famously guarded about the criteria they look at for deciding what companies should be added and taken out -- and when.
"You think the Vatican is tight lipped about choosing a new Pope? This is a very mysterious process," said John Steele Gordon, an author and business historian.
Yes, there has been a flurry of changes lately. But the recent scuttling of GM, AIG (AIG, Fortune 500) and Citi (C, Fortune 500) are actually anomalies. They all came under extreme duress.
GM's bankruptcy and the big investments by the government in AIG and Citi forced the WSJ editors to give them the old heave-ho. There are no Dow companies currently in financial dire straits that would be obvious ones to kick out.
Plus, there are already five tech firms in the Dow -- Microsoft, Intel (INTC, Fortune 500), Hewlett-Packard (HPQ, Fortune 500),IBM (IBM, Fortune 500) and Cisco Systems (CSCO, Fortune 500). That's likely to give the WSJ editors pause.
Would six techs be too many? I don't think so. The Dow has often been heavily skewed in favor of industries that were dominant at that particular time. When the Dow expanded to 30 components in 1928, there were four automotive companies in it.
Let's be honest. The fact that it's still called the Dow Jones industrial average is a quaint anachronism. The Dow was entirely made up of industrial companies in 1896 because that was an accurate representation of the U.S. economy at the end of the 19th century.
This is the dawn of the 21st century. The tech sector is a vibrant and increasingly important part of the U.S. economy now and is likely to remain so for the foreseeable future. The Dow should reflect that.
"The Dow is an imperfect measure of the stock market but it's the one that we have that everyone focuses on. It has enormous power," Gordon said.
So if a company like Alcoa (AA, Fortune 500), DuPont (DD, Fortune 500) or 3M (MMM, Fortune 500) -- which are all slower-growth companies with estimated 2010 sales lower than Apple -- were removed to make room for Apple, would the Dow really be losing much?
"I would be surprised if Apple isn't eventually in the Dow. Apple has been highly innovative," Gordon said. "The economy is changing so fast. Some weaker companies should probably be removed."
Reader comment of the week: Goldman Sachs (GS, Fortune 500) dominated the headlines this week as investors still try and figure out what impact the SEC's fraud charges will ultimately have on the white shoe firm.
Chris Jones agreed with some of the fund managers who are sticking with the stock. He thinks that the bad news will soon blow over.
"The charges against Goldman are over such a small detail in disclosure that proving fraud seems unlikely. In my opinion, Goldman is just the "Toyota of the month"; a company with a historically strong reputation being slaughtered in the media for sensationalist headlines," he wrote.
In our defense, the media isn't the only one slaughtering Goldman. Politicians are doing so too and the Capitol Hill circus will intensify when Lloyd Blankfein, the "fabulous" Fabrice Tourre and other Goldman execs head to D.C. next Tuesday to testify in front of a Senate committee.
- The opinions expressed in this commentary are solely those of Paul R. La Monica.