Steve and Tim Forbes head upstairs, eye new COO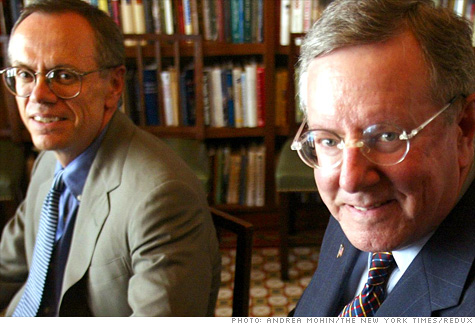 (Fortune) -- After 19 years running Forbes magazine, CEO Steve Forbes and his brother, COO Tim Forbes, are planning a reshuffle in management. Headhunter Michele James, CEO and founder of James & Co, has contacted at least one bona fide candidate for the job of COO of Forbes.
The current COO is Tim Forbes. "Tim is staying with the company, he's just going to go to a higher level," says Forbes spokesperson Monie Begley. "The new person coming in will report to Steve and Tim."
Forbes could be taking someone on because it's trying to improve and rethink its digital presence. The company recently hired Lewis DVorkin, founder and CEO of True/Slant, as a consultant to help update its web strategy. Hiring a new executive who has significant digital experience could be another step in that direction.
"I would imagine that the person will have to have deep skills in web and print," says Begley, who doesn't see the web issue as a driving force for the search for a new COO. We've been doing [the web] since 1997, and very successfully."
It's notable that the company is looking for new blood of the non-Forbes variety. That's a tremendous change for Forbes, which has had little genetic variation in its management since B.C. Forbes founded the magazine in 1917. In 1954, B.C.'s son Malcolm took over. When he died, Steve gained control and has been the face of the company until now.
Steve is the higher-profile Forbes brother. He founded Princeton's student-run publication Business Today as an undergrad then took over Forbes in 1990. He started spending less time at the magazine beginning in 1995, when he began campaigning for president for the 1996 election. He ran for president again in 2000. He still contributes editorial articles to the magazine, often pushing vehemently for a flat tax.
Steve's brother Tim has largely stayed out of the spotlight, representing the strictly pro-capitalist view of the Forbes dynasty, without engaging in the flamboyance. He's also been actively running the magazine and website. Tim was reported by Peter Kafka of All Things Digital to be enamored with True/Slant's DVorkin and has been leading the Forbes dot-com effort for years now.
Tim might move up to become CEO of the company. If that happens, Steve would relinquish that role but remain as chairman, and the new person would enter as COO. In that case Tim would take over the as the face of Forbes, and the new hire would take over Tim's role in the company's day to day operations. A source speculated to Fortune that new leadership is needed to help make the company profitable again. It's not clear how the COO search relates to the search for a CEO of Forbes.com, a position last held by Jim Spanfeller in late 2009.
Forbes has been shaken up ever since 2009, when its ad pages dropped by over 30% in the first nine months, compared to the previous year. Then, the company sliced its staff of 200 by roughly 25%. Forbes sold its building at the beginning of 2010 to New York University, which bought it as a five-year sale-and-leaseback agreement. So the new CEO or COO is part of a restructuring, already underway. Forbes' minority investor is private equity fund Elevation Partners, which just today announced it that Palm (PALM), in which it has a stake, is being acquired by HP (HPQ, Fortune 500) for $1.2 billion.
The talent scout in charge of the search for the new member of Forbes management, Michele James, couldn't be reached to comment. Before she founded her own company in 2002, James was the Chief Talent Scout at AOL. She's worked with Condé Nast, the NFL, XM Radio and World Wrestling Entertainment, among others.