A $10 app saves hours of commuting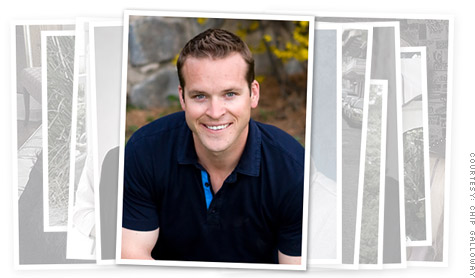 (CNNMoney.com) -- Chip Galloway, the owner C&C Landscaping in Salt Lake City, used to spend hours in the car driving to landscaping projects -- time he knew would be better spent courting new clients. But if he didn't see those projects firsthand, his workers might easily make a costly mistake, like misplacing a tree or putting incorrectly sized rocks in a water fountain.
"It's usually a 10-minute visit that takes 45 minutes each way to get there," says Galloway. "There are only so many hours in the day."
That changed last year, when Galloway got his hands on software called Pixetell -- a sort of 'e-mail meets voicemail meets Web conferencing' tool.
Now, for $720 a year, Galloway and five of his top employees can send detailed multimedia e-mail messages. They can shoot video and photos and describe them in a voiceover, and motion with a mouse to highlight key points in architectural drawings and spreadsheets. Project managers in the field often take snapshots of what they're working on and send them to Galloway along with their comments.
"They can say, 'Hey Chip, this is where we put this tree, what do you think?'" says Galloway, 31. "It saves me a ton of time. I can be at more than one place at once and keep the professionalism."
Because of the technology, Galloway says C&C Landscaping has reduced mistakes in the field by 75%, slashed his driving time in half, cut overhead by about 6% and kept the company's $4 million in annual sales steady despite the economic downturn.
Today, small businesses have more choices then ever before of cost-effective communication technologies.
"It's a stellar time for small businesses," says Ira Weinstein, a partner and analyst at Wainhouse Research, a Boston research firm that follows the conferencing and collaboration industry. Prices are lower, bandwidth is more available and the technology itself has improved dramatically, he says.
Witness the free beta version of Google Wave -- a cross between instant messaging and Twitter -- that lets multiple people have an online conversation with pictures, movies, games, polls and maps. A wave can be published to a blog or a Web site.
Dozens of Web conferencing services like GoToMeeting and WebEx also are available for $40 to $60 a month, allowing participants to see and chat with one another online, share documents in real time, type messages to the whole group or a few individuals, and write on a shared virtual whiteboard.
Software by Okemos, Mich.-based TechSmith, called Camtasia Studio, records your onscreen activity, your audio and Web cam video and lets you edit it into a professional video to share. It costs $300.
The company also has a free service called Jing that lets people take a video of their screen and share it over the Web, instant messenger or e-mail. For $15, users can upgrade to JingPro, which adds recordings of Web cam video to go with the onscreen action.
Galloway says he considered other services like Jing but preferred the simplicity of Pixetell. Once it's downloaded, Pixetell sits on the desktop ready to record. A user can track a sent message to see when it has been viewed and how many times, and can view any replies in a thread on the side of the message.
Ontier Inc., based in Portland, Ore., launched Pixetell in mid-2009. The company now has several thousand users, ranging from customer service agents to online merchants to day-traders, each paying $9 to $19 a month for the service.
Founder and CEO Sebastian Rapport says he came up with the idea for his software after watching his wife, a marketing consultant, struggle to communicate with Web designers. "She was literally tearing her hair out," says Rapport, 40.
Galloway now uses the software to communicate with customers, including one who lives in New York. That client's project might have normally required 20 face-to-face meetings, but Galloway has been able to do all but two of those meetings via Pixetell. His client chose to get his own $10 monthly Pixetell subscription in order to reply to Galloway's messages. (A subscription is not needed to simply view the messages.)
While in-person meetings remain vital, Galloway says he's been able to shift much of his communication into the virtual realm. To describe a complex landscaping proposal, for instance, he can build a Pixetell presentation, explaining each line on an estimate sheet and clicking links to sample pictures of stones, plants or trees on various Web sites.
"My clients can open it at their leisure," Galloway says. "They are usually blown away."