GM recalls 160,000 Hummers to fix hood vent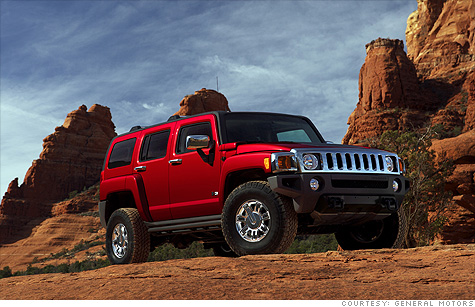 NEW YORK (CNNMoney.com) -- General Motors is recalling 162,000 Hummer H3s in the U.S. because a faux air vent attached to the hood could become detached, creating a potential hazard.
An additional 36,000 are being recalled overseas to fix the problem, which was first reported to GM by the Japan Ministry of Land Infrastructure in January.
Clips that hold the large black plastic piece to the Hummer's hood can break. As the clips fail, the plastic panel can begin to rattle when the truck is driven. Eventually, the vent can come loose altogether, completely separating from the hood.
"If the vehicle is being driving when this occurs, it could strike a following vehicle and cause injury and/or property damage," the National Highway Traffic Safety Administration says on its Web site.
No deaths or injuries have been reported as a result of this issue, a GM spokesman said.
The recall applies to both the Hummer H3 mid-sized SUV and to the Hummer H3T, a pick-up truck version. The vehicles involved are from the 2006 through 2010 model years.
To fix the problem, GM dealers will apply an adhesive to better secure the plastic vent panel to the hood.
Owner of vehicles involved in the recall will be notified by mail, GM said.
Hummer is one of three brands GM is shutting down as part of its post-bankruptcy restructuring. The others are Pontiac and Saturn. GM was able to sell the Swedish Saab brand to the Dutch exotic car manufacturer Koenigsegg.
The automaker had been close to a deal to sell the Hummer to a Chinese heavy equipment manufacturer but announced in February that the deal had fallen through