Dollar rises on European debt fears
NEW YORK (CNNMoney.com) -- The dollar rose Wednesday, trading at fresh one-year highs against the euro, as fears about Europe's debt crisis sent investors away from riskier assets.
What prices are doing: The dollar gained 1.3% versus the euro to $1.2822 after climbing to its highest level since March 2009 in earlier trading. It was up 0.25% on the pound to $1.5106. Against the yen, the dollar fell 0.8% to ¥93.78.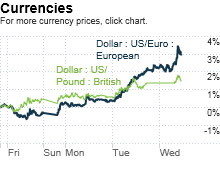 What's moving the market: The dollar remained strong, as persistent debt fears weighed on global stock markets.
European stock markets were down across the board Wednesday, while U.S. stocks closed sharply lower, after plunging the day before. Other risky asset classes, such as oil, were also down as investors sought refuge in quality.
The widespread sell-off follows an announcement on Sunday that European officials agreed to provide Greece with a $146 billion bailout package in exchange for strict new austerity measures. Civil unrest ensued, as Greek union workers protested against the plan.
Contagion fears were heightened last week after the sovereign debt of Portugal and Spain were downgraded and both countries were given a negative outlook.
What analysts are saying: European currencies are still under pressure, but the "panic of the last 72 hours looks to be subsiding," said Brian Dolan, chief currency strategist for Forex.com.
Dolan says that Thursday's scheduled European Central Bank meeting is fueling some optimism that its rhetoric would shore up confidence in Europe.
"At minimum, the ECB is looking to stabilize the euro with verbal intervention. If they do that, it will buy the euro a short respite," he said.
Europe's burgeoning liquidity problems are reminiscent of 2007, when Bear Stearns' liquidity crisis shook the markets and preceded a global meltdown, says Dolan. Therefore, the uncertainty around Greece and other troubled European economies will weigh on the euro until a longer-term solution is found.
He says that the ECB could provide unlimited lending to banks or step in to buy debt directly from the troubled European nations, but conceded that these are only short term fixes that are "euro negative."
An ECB announcement would induce a "short-term rebound in the euro, but the picture is still dark," said Dolan. "It's going to be bumpy summer."