Watch Greece but don't forget America
NEW YORK (CNNMoney.com) -- Investors are acting like college students eager to take that quintessential backpacking adventure before joining the real world. They are obsessed with Europe.
And while the situation in Europe is worrisome, investors may be ignoring good news right here in the U.S.

Stocks plunged Tuesday on fears that Greece's bailout may not actually save it and other debt-ridden European nations. Stocks dipped again Wednesday after credit rating agency Moody's said it may downgrade Portugal's debt.

Worries about Europe have been one of the dominant concerns for all of 2010. But the latest fixation on the continent is a bit curious. For one, the sell-off is coming after Greece appears to have finally gotten a much-needed lifeline from the European Union and International Monetary Fund.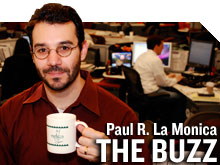 And even if Portugal does get downgraded by Moody's, the rating agency is a little late to that game. Standard & Poor's cut Portugal last week and Fitch did so in March.
"There are some new fears about a global contagion. But all of this has been out there. It's not new," said Bill Stone, chief investment strategist with PNC Asset Management Group in Philadelphia. "Greece may be coming to a head and the world is certainly connected. But the global economy as a whole still seems to be in recovery."
Of course, it would be dangerously naive to suggest that we don't need to pay attention to Europe. But Tuesday's sell-off may not signal the start of a new Lehman Brothers-esque financial crisis.
It may just be a convenient excuse for traders to cash in after a heady run for the markets over the past year or so. Even after you factor in Tuesday's big drop, the S&P 500 is still up about 75% since stocks bottomed in March 2009.
"The market was moving higher and higher and was becoming incredibly overbought," said Quincy Krosby, chief market strategist with Prudential Financial in Newark, N.J.
"The mentality right now is that people don't want to lose money. They are not worrying about making money," she added. "Whenever there is new uncertainty, the instinctive reaction is to sell first, ask questions later and wait for clarity."
So it's possible that stocks may slide even further in the short term. Matt O'Reilly, chief investment strategist with People's United Wealth Management in Bridgeport, Conn., said that the market is overdue for a decent sized pullback, or correction.
"Take a look at valuations for stocks and how rapidly we've come off the bottom. It's not unreasonable for the market to pull back from here. It's part of a normal cycle and is indicative of a relatively healthy market."
O'Reilly said that in addition to Europe contagion fears, worries about China looking to rein in its economy as well as increased concerns that lawmakers may push for a tougher financial reform bill in the wake of the Goldman Sachs (GS, Fortune 500) scandal are also weighing on investor confidence.

America the Beautiful
That makes a certain degree of sense. But the latest market slide is taking place despite some positive signs about the nascent recovery in the U.S.
Sure, it's not all puppies and rainbows for the U.S. economy just yet. But you'd have to be one of those eternal doom-and-gloom permabears to dismiss the obvious. The U.S. economy is slowly but surely improving.
The latest employment figures from payroll processor ADP showed a third consecutive month of job growth in the private sector. Corporate earnings for the first quarter, by and large, have been solid.
More importantly, several well-known blue chip companies in a variety of sectors, such as Starbucks (SBUX, Fortune 500), DuPont (DD, Fortune 500), IBM (IBM, Fortune 500), Whirlpool (WHR, Fortune 500) and UPS (UPS, Fortune 500), have raised their 2010 forecasts in the past few weeks.
"Little by little, the U.S. recovery is gaining traction. It's modest but it's a recovery," Krosby said. "Many companies are in strong shape."
Even the long-suffering housing market appears to have finally hit bottom. Homebuilder Pulte (PLT) reported Wednesday that it now expects to be profitable in 2010 thanks to a nice increase in new home orders and said that the housing market should be stable for the rest of the year.
With that in mind, the most appropriate question that long-term investors might need to ask themselves is this: Can the U.S. economy continue to show faint signs of life and will that overshadow the debt woes in Europe?
We'll find out more about that on Friday when the Labor Department releases the April jobs numbers. If there are a lot more jobs added than the 187,000 that economists are predicting, then that could be what investors are looking for to get the markets back on track.
"There is no lack of good numbers about the U.S. economy at the moment, and jobs are the last piece of the puzzle. But people are hoping the puzzle doesn't get scrambled by the problems in Europe," Stone said.
Still, one expert suggested that the market's recent slide probably won't last long no matter what happens in Europe.
"You can look for all the reasons you want to explain the sell-off, but I talked to a lot of hedge funds and they say it's simply the hot money bailing," said Jeffrey Saut, chief investment strategist for Raymond James in St. Petersburg, Fla. "Is the bull run over? Absolutely not."
- The opinions expressed in this commentary are solely those of Paul R. La Monica.