P&G stock drops 37% -- not really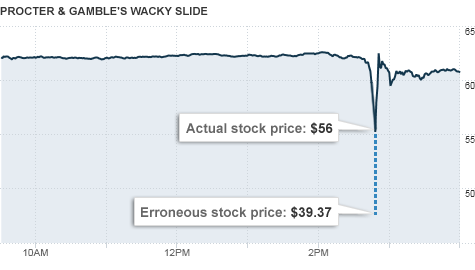 NEW YORK (CNNMoney.com) -- Just before 3 p.m. ET Thursday, shares of Procter & Gamble appeared to have fallen 37%, helping trigger a massive 900-point sell-off in the Dow Jones industrial average.
The huge drop in P&G's stock - reportedly from more than $60 to less than $40 - is widely believed to have been a trading glitch.
Several other stocks had huge drops in their price at that time as well, including Apple (AAPL, Fortune 500), Accenture (ACN), 3M (MMM, Fortune 500) and Oxford Industries (OXM).
At around 2:45 p.m. ET, P&G's (PG, Fortune 500) stock had fallen 10% to $56 on the New York Stock Exchange, triggering a "circuit breaker." At that point, the NYSE slowed the trading of the stock for less than a minute. During that short time, other stock exchanges were allowed to trade P&G's stock price on their own, instead of getting the price from NYSE.
According to Procter & Gamble and the NYSE, the Nasdaq stock exchange may have misprinted a quote of $39.37 a share. It is also possible that the electronic trades actually occurred, but they were made in error.
Late on Thursday Nasdaq said it had no technology or system issues associated with the trading that occurred between 2:00 and 3:00 p.m. ET.
But the exchange said that because it coordinates with other US Exchanges, "all trades executed between 2:00 and 3:00 p.m. ET greater than or less than 60%" of the stock price as of 2:40 p.m. ET or immediately prior to that time will be cancelled.
Procter & Gamble is a Dow component, and the reported 37% drop in P&G's stock contributed 172 points to thedrop in the Dow.
"The market was down 400 points before we went into a slowdown," Lawrence Leibowitz, NYSE's chief executive, told CNN. "A lot of the movement when the market went down 1,000 points was due to stocks trading at strange prices. Then it went all the way back up to where we started."
Leibowitz said that stocks are very thinly traded in such situations, which can lead to wild volatility.
That's exactly what happened with Procter & Gamble and a handful of other stocks.
Apple (AAPL, Fortune 500) traded down 22% to $199.25 before recovering.
Accenture (ACN) fell from $40.13 at 2:45 p.m. all the way to just 1 cent before quickly rising back to $39.57.
Oxford Industries (OXM) also tanked to $1.34 before soaring back to $19.51 a minute later.
3M (MMM, Fortune 500), a Dow component, momentarily fell $18.61. That 21.5% drop in 3M's stock alone represented a 143-point decline in the Dow.
"I don't know if it was a faulty trade," said Leibowitz. "We may find out that those trades were erroneous. A lot of times, those trades will get cancelled later on."
Procter & Gamble confirmed that the drop in its stock price was on the electronically traded Nasdaq exchange.
"Today's low trade was $56," said Jennifer Chelune, spokeswoman for P&G in an e-mailed statement. "Any trade reported below that would have been on the Nasdaq and we're looking into whether those were errors."
The SEC and CFTC said they "are working closely with the other financial regulators, as well as the exchanges, to review the unusual trading activity that took place briefly this afternoon. We are also working with the exchanges to take appropriate steps to protect investors pursuant to market rules."
The regulators said they will make their findings public along with recommendations for appropriate action.