Drug recalls not hurting J&J - yet
NEW YORK (CNNMoney.com) -- They say there's no such thing as bad publicity. Try telling that to shareholders of Toyota, Massey Energy, BP and Goldman Sachs.
Recalls, two tragic accidents and fraud allegations have led to big pullbacks in the shares of those four companies. The knee-jerk reaction to bad PR has been to dump the stocks first and worry about just how much of a financial mess the negative press is really creating later.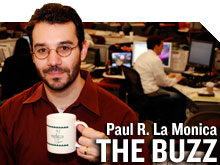 So with that in mind, how on earth is Johnson & Johnson (JNJ, Fortune 500) holding up so well in the first few days after a subsidiary announced a recall of children's Tylenol and other over-the-counter medications for kids over quality concerns?
J&J shares gained ground on Monday -- the first trading day after the recall was announced -- and slipped less than 1% Tuesday while the rest of the market took a far worse drubbing. Shares rose again Wednesday and dipped slightly Thursday morning. But so far this week, the stock is largely unchanged.
Institutional investors who own the stock said that J&J still appears to be getting the benefit of the doubt because the company earned plaudits for how it handled the Tylenol cyanide scare in Chicago in 1982.
The company immediately halted sales and marketing of Tylenol nationwide after it was discovered that seven people died from taking cyanide-laced Tylenol tablets.
"Recalls are obviously not something you'd like to see but J&J has been a company that's been through similar situations and is known for its quality control," said Ted Parrish, co-manager of the Henssler Equity fund, which owns J&J. "They will own up to this and try and quickly fix the problem."
Robert Zagunis. co-manager with the Jensen fund, which also owns a stake in J&J, agreed. He pointed out that there is a strong precedent for how the company deals with quality concerns and that this is not being overlooked by many of the company's bigger investors.
That may be true. But this doesn't look like a story that is going to go away anytime soon.
There is growing evidence that the problems at J&J's McNeil consumer products unit have been going on for some time. The most recent recall is the fourth of a McNeil-made drug in the past seven months.
The Food & Drug Administration issued a harsh report Tuesday, citing some of the serious concerns it had about McNeil's operating facilitiy in Pennsylvania where the children's drugs were made. And on Wednesday, the House Committee on Oversight and Government Reform announced it will investigate the recall.
Increased attention from Washington is clearly not a good sign. Toyota and Goldman Sachs were also once companies known for having a good reputation. It's amazing how quickly that goodwill can evaporate when there is a constant drumbeat of bad news and heightened scrutiny from politicians.
But for now, J&J has one very important thing going for it. There have not been any major reports of people claiming that they or their children have gotten sick from any of the recalled medications.
With Toyota (TM), there were accidents involving sticky gas pedals. People died as a result of the Massey (MEE) and BP (BP) explosions, and BP also faces even more risks due to potential clean-up costs and legal liabilities. And according to the SEC's fraud allegations, investors lost $1 billion on Goldman's Abacus deal.
"I don't think anyone's actually been hurt. There is no harm yet as a result of the recalls and that may be the dividing line between J&J and companies like Massey and BP," said Les Funtleyder, a health care analyst with Miller Tabak & Co.
So as long as there are no cases of people actually citing serious health problems that can be directly tied to the recalled drugs, J&J may continue to stay in the good graces of Wall Street.
Along those lines, Parrish said he hasn't thought twice about holding on to his fund's position in J&J. The stock is one of the fund's five largest holdings.
Finally, there's the issue of dollars and cents. It's tough to know how much the recall is costing J&J. A spokesman for Johnson & Johnson was not immediately available for comment.
But the company does not break down revenues for Children's Tylenol or the other affected products. According to its 2009 annual report, sales of all over-the-counter medications were $5.6 billion. That accounts for just 9% of J&J's total revenue.
For what it's worth, sales in J&J's consumer business, which includes OTC drugs as well as brand name products like Neutrogena and Listerine, did slip nearly 4% in the first quarter from a year ago.
The company cited the January recall of adult versions of Tylenol as a reason for the decline. But despite that, total J&J sales were still up 4% from the first quarter of 2009.
So J&J can afford to take a hit if it keeps drugs off the shelves for some time. And investors appear willing to forgive a short-term blip in profits if it means that the company is taking the steps to ensure that its solid reputation remains intact.
"It's all about the culture of the company. How you handle problems is more important than the fact that issues come up," Zagunis said.
- The opinions expressed in this commentary are solely those of Paul R. La Monica.