Trail of tiers: How Procter & Gamble made cheap, new products to buck the recession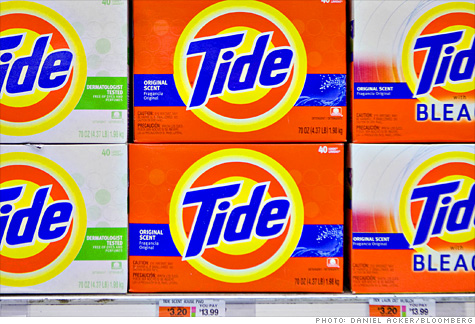 (Fortune) -- When Procter & Gamble reported its third quarter earnings last week, reporters rushed out stories attributing the company's recent lowering of prices to a supposed company-wide plan to slash prices and gain market share as the world emerges from the Great Recession. It's true that prices of specific items in some markets may have changed, but the explanation is hardly that simple.
"The reality is that this is an enormous company," says Barclay's analyst Lauren Lieberman, who says there are price increases and decreases happening all over the markets P&G (PG, Fortune 500) competes in. The rationale goes back to pre-crisis 2008, when inflation in Central and Eastern Europe was still climbing. To offset that inflation, Procter & Gamble logically raised prices there.
But by the Spring of 2009, the worldwide recession had halted the inflation that caused the company to raise prices. Still, when Procter & Gamble reported third quarter results, it had already reaped as much as $1.4 billion from these price hikes, according to UBS analyst Nik Modi.
Lower prices? Yes. Price cuts? No.
In July of 2009, Procter & Gamble executives made clear that prices in some markets would be reduced to account for currency changes, but that the net impact would be that prices would stay higher than they were before the recession hit. According to Modi, P&G's third quarter of 2010 results reflected price cuts of $200 million. Even with the reductions, that bears out the company's plan: stop cutting prices on established brands, and create new, cheaper ones, to serve markets that can't afford to pay the P&G premium.
Procter & Gamble's new CEO, Bob McDonald, put into motion the plan in order to bring a wider range of consumers to P&G products at lower price points. McDonald then adjusted the pricing of existing products to reach the higher and lower ends of the market. According to Lieberman, this is a strategy that the company has been working toward for the better part of the decade; it's only now coming to fruition under McDonald's leadership.

Why Tide Naturals is cheaper than Tide
To compete with companies like Unilever (UN) and Colgate-Palmolive (CL, Fortune 500) in India, China and other emerging markets, Procter & Gamble created products like Tide Naturals that cost less to make than traditional Tide, and sell at lower price points. The stratification in the product line allows Procter & Gamble to compete for those lower-income consumers, thereby helping the company sell more units and continue to grow.
In essence, P&G is adopting the same strategy car companies, computer makers and designer clothing makers have used for decades: create a wide variety of branded products at a variety of price points to give every potential customer a chance to buy from your company, whether they can afford your top-of-the-line product, or not.
Tiers aren't just for trade-ups anymore
"Touching more consumers is not just marketing jargon," JPMorgan Chase analyst John Faucher wrote in a recent note to investors. "Procter & Gamble needs to broaden its product portfolio to reach lower-income consumers. Trade-up can exist going forward, but off a much lower base." In essence, the tiered product offerings aren't just there to 'graduate' consumers to the premium brand-they may be the only product that consumer can ever afford to buy.
Along with Tide Naturals, Procter & Gamble is launching lower-priced Pampers diapers in Europe, Naturella feminine products in China, oral care in Latin America, and Gillette shaving products in India.
As for what's driving price cuts in North America, Lieberman and Modi agree that it's nearly impossible to determine whether retail prices are being adjusted by Procter & Gamble or by the stores themselves. Retailers are often willing to take a hit on a gallon of Tide if it drives consumers to buy a full basket of the rest of their goods. However, both analysts note that big box items like those found at Costco (COST, Fortune 500) and BJ's Wholesale Club (BJ, Fortune 500) have recently come down in price across the board.
"Procter & Gamble isn't simply cutting prices to gain market share," says Lieberman. "What we're seeing now is the result of a strategy that was announced last summer to reach a wider range of consumers around the world."