A summer job drought for youth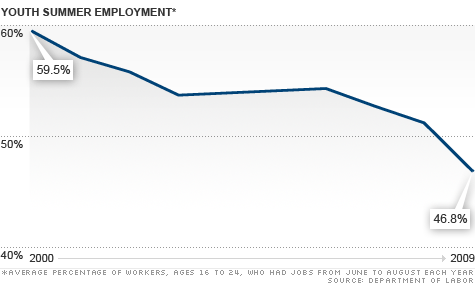 NEW YORK (CNNMoney.com) -- The job situation is starting to look better for grownups. But college and high school kids could be in for a long, disappointing summer.
While Friday's employment report showed employers adding 290,000, the biggest jump in four years, unemployment among 16- to 24-year-olds stands at nearly 20% heading into this summer. That's almost doubled from 2007, the last summer before the recession, when it averaged just over 10%.
"As far as summer jobs go, this is going to be the worst year to try to land a job since the Depression," said Heidi Shierholz, labor economist with the Economic Policy Institute, a liberal think tank.

And the numbers tell only part of the story since so many younger job seekers have simply given up and no longer counted as unemployed.

The percentage of those in the 16- to 24-year-old age group with jobs last summer tumbled to an average of 47% from 55% over the course of the previous 60 years. The situation has only gotten worse since last summer, with only 45% holding a job in the most recent reading in April.
Kirby Reiss, a junior at Queens College in New York, said only one or two friends out of her circle of 15 or 20 have jobs lined up for this summer and many have already given up looking.
"We might enjoy spending the summer in the sun, but we realize we're not going to have any money to spend this year or next school year," she said.
Hillary Poynor, a sophomore at Cornerstone University in Grand Rapids, Mich., is another student who doesn't need statistics to know how bad the job market is for young job seekers.
Poynor started out last summer looking for a job in her field of study, communications, and finding nothing, expanded the job search only to find nothing but babysitting and other odd jobs.
Even the jobs she had in high school, working in a mortgage office and in a store at a mall near her hometown of Elgin, Ill., are no longer available.

"I'm just trying to figure out if there are people I know who need any kind of help," she said. She's already starting to worry about how her job search will go when she graduates from college in two years without some decent job experience on her résumé.
"I chose communications because I figured there'd be a lot of opportunities, but the door keeps get smaller and smaller," she said.
Lasting damage
Poynor is right to be worried. The experience that today's college students have missed out on last summer and this coming summer could cost them for years to come.
"Summer employment experience is really important for your occupational path. It can have lasting impact on career and wages moving forward," said Shierholz.
Experts point to a variety of reasons for the tough outlook for young workers. The biggest is the still-poor state of the overall labor market.

While various readings show employers finally adding jobs after nearly two years of nothing but cuts, overall unemployment stands at 9.9%. That is creating far more competition for entry-level or seasonal jobs.

Just over half of employers are planning to hire summer help, according to a survey by SnagAJob.com, an hourly job placement service. And more than third of those who are looking for help will hire even fewer workers this year.
"You're not only competing with college students but also those seasoned adults with 10, 15, or 20 years of work experience," said Shawn Boyer, CEO of SnagAJob.com.

And many summer jobs had been government funded in the past, with state and local governments needing staff for pools or other summer programs and $1.2 billion in stimulus money that went to hire more than 300,000 disadvantaged teenagers last year.

But this year, staff cuts are increasingly common at the state and local levels, and Congress has yet to reauthorize a summer jobs program for 2010.
"I have met with so many young people whose lives were turned around by last year's summer jobs program," said Sen. Patty Murray, D-Wash., who has been fighting for another $1.5 billion for a youth jobs program this summer, so far without success.

"Putting young people to work and giving them the skills to succeed in the future shouldn't be a partisan issue."
Internships vanish
There are a few pockets of strength. Summer jobs for top college students on Wall Street have bounced back nicely, although not enough to overcome the cuts of up to 50% made in 2009, said Scott Rostan, president of Training The Street, a corporate training firm specializing in that sector.

But other industries that made large use of summer help in the past, including construction and journalism, continue to struggle.
Aaron Moore, a communications professor at Rider University in New Jersey and coordinator for the journalism program there, said paid internships, once common in many newsrooms, have become rare, and even unpaid internships are more difficult to find. He said companies realize that even unpaid help poses a cost that they aren't willing to bear.
"The person who used to look over the interns, either they've been laid-off, or they have so many more duties they no longer can train and oversee the interns," he said.
And competition for unpaid internships has increased in all fields, as college students unable to find paying jobs try desperately to improve their résumés.
"We're seeing an abnormally high number of college kids offering to work for free this summer," said Rob McGovern, CEO of Jobfox, a job matching and résumé-writing site. "They're saying 'I'd like to be able to build my work history if I get paid or not.'"