Investors brace for the day after
NEW YORK (CNNMoney.com) -- Stocks went on a wild ride Thursday, with the Dow industrials making a historic plunge of nearly 1,000 points before partially recovering to close down 348 ... and people are still scratching their heads wondering what happened.
Erroneous trading at Procter & Gamble (PG, Fortune 500) and several other stocks sparked the selloff, with market chatter attributing it technical glitches.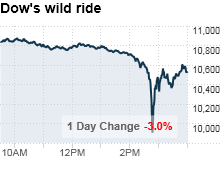 But the Nasdaq dismissed rumors that the extreme volatility was the result of a technical glitch. The Nasdaq also said late Thursday that it successfully shut down trading during the period of "extreme volatility" and that it was canceling the trades with the most severe fluctuations between the times of 2:40 p.m. and 3 p.m. ET.
Duncan Niederauer, Chief Executive of the New York Stock Exchange, told CNNMoney.com on Thursday that the volatility caused by big trades and thin volume.
"I think everyone's looking for the smoking gun, saying that traders made a mistake, who had a fat finger and sold something they didn't mean to sell," he said. "My view is that's not what happened."
"On a day like today, it might just take a few offers of people selling," he said, adding, "There was not a lot of volume on the way down, or, quite frankly, on the way up."
The Securities and Exchange Commission and the Commodity Futures Trading Commission released a joint statement on Thursday, saying they were "working closely with other financial regulators, as well as the exchanges, to review the unusual trading activity ... We are also working with the exchanges to take appropriate steps to protect investors pursuant to market rules."
Stock markets around the world retreated Friday as investors were jittery about the selloff on Wall Street. European markets dropped in morning trading and Asian shares finished steeply down.