Mario Gabelli bets big on natural gas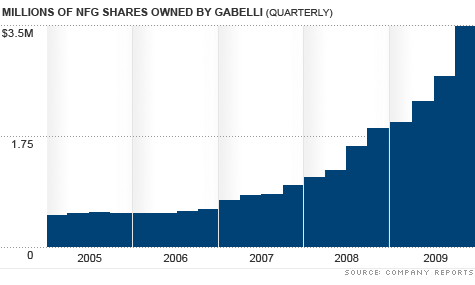 (Fortune) -- Noted mutual fund manager Mario Gabelli recently bought 800,000 shares of utility National Fuel Gas. We caught up with him to find out why he made the buy. He says it's a cheap way to play America's energy, and he gave us five good reasons why.
1. NFG is a steady utility
Gabelli, whose company, GAMCO Investors, oversees $26 billion, first bought shares of NFG (NFG) in the late '90s. "We came at National Fuel Gas with the intention of buying it for our utilities fund, so that's how we hit upon it," he says. The utility is in a mature service territory -- New York and Pennsylvania -- so it's not a fast-growth business. But NFG's utility produces a dependable earnings stream with a high return on equity, Gabelli says. He also likes the company's dividend, which has been rising for 39 years. The yield is now 2.5%.
2. NFG is also a gas player -- with a cost advantage
"About 70 years ago, National Fuel Gas decided, Let's figure out how we can get closer to our gas supply," says Gabelli. "So they bought a million acres in Pennsylvania and New York, and they paid almost nothing for the land." NFG's property sits on top of the Marcellus Shale, a massive gas field that, thanks to recent innovations in drilling technology, can now be tapped. While NFG long ago paid off its land, Gabelli notes, rivals are now paying an average of $4,600 an acre to lease property for drilling in the Marcellus Shale.
3. Gabelli thinks natural gas prices will revive
Gas has plunged over the past couple of years, but Gabelli predicts it will rebound. "With the economy improving, we think natural gas is undervalued," he says, pointing to the "disconnect" between rising oil prices and falling natural gas rates. Gabelli thinks America will increasingly depend on gas, in part because it's abundant in the U.S. "If you can extract natural gas from a politically safe area like Marcellus and get it to the customer, that's a big opportunity," he says. Even if gas prices don't go up, he argues, NFG is worth considerably more than its current price.
4. NFG's gas assets aren't reflected in the stock price
"The way we see it, the utility is worth roughly $20 a share," says Gabelli. "The pipeline business is worth $15 a share, proven reserves are $15 a share, and timber is $2. So that adds up to $52, which is where it's trading at now; take out the debt and you're at $42." That's before you even consider the potential of the Marcellus land, which one of Gabelli's analysts thinks is worth another $42*. "National Fuel Gas fell under the radar screen for utility analysts, who didn't fully see the potential. But it became apparent to me that it was a technology-driven asset play. For value investors like myself, that's very attractive."
5. There's unlocked potential
Gabelli believes NFG's next steps are key. "We think they could take their exploration and production business, Seneca, and offer a piece of it to the public in order to raise capital. In doing so, they would identify to the world what they own. There's been a lot of interest, what with Exxon (XOM, Fortune 500) buying XTO (XTO, Fortune 500), and Atlas (ATLS) cutting a deal with a company in India. Entities are paying significant dollars to get in the shale, which validates our premise," Gabelli says. Why hasn't NFG already spun out its Marcellus operation? "They're still trying to figure out the potential of the acreage. They don't want to give up any value, and gas prices are at a cyclical low," he says.
*An earlier version of this story incorrectly stated that Gabelli thinks the land is worth $42 per share. One of his analysts believes so.