Treasurys fall as European woes ease
NEW YORK (CNNMoney.com) -- Treasurys declined Wednesday as signs of improvement in the euro zone overshadowed solid results from a government auction of 10-year notes.
What prices are doing: The benchmark 10-year note fell 14/32 to 100-13/32, pushing the yield up to 3.58% from 3.53% on Tuesday. Bond prices and yields move in opposite directions.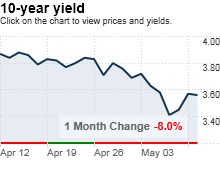 The 30-year bond was down 3/32 to 102-9/32 with a 4.48% yield. The 2-year note edged down 2/32 to 100-8/32 with a 0.87% yield. The 5-year note dropped to 101, yielding 2.29%.
What's moving the market: Increased confidence in the market on Wednesday led investors away from the safety of government-backed bonds and into riskier assets like stocks.
A report from the euro zone showed that the region's economy grew 0.2% in the first quarter. Spain also announced Wednesday it would implement austerity measures to trim its budget deficit, a further signal that the euro zone is taking steps to strengthen its economy and address its debt issues.
These signs of improvement come after a European rescue package, valued at nearly $1 trillion, was introduced over the weekend in an attempt stabilize the euro and strengthen debt-ridden nations such as Greece.
While the market lost steam on Tuesday because investors became skeptical of how effective the aid package would be, some confidence returned on Wednesday.
"[Treasurys] are losing some of their safe-haven status as we see a bit of improved confidence since the wobbly start of the rescue package for Greece," said Kim Rupert, a fixed income analyst at Action Economics.
The weakness in the stock market even outweighed the Treasury Department's latest auction results on Wednesday, said Rupert.
The government's $24 billion offering of 10-year notes on Wednesday was met with solid demand, with investors submitting bids totaling $70.9 billion.
"It was pretty well subscribed and showed that there is still solid demand for the safety and liquidity of Treasurys," said Rupert.
On Thursday, the government is scheduled to hold a $16 billion auction of 30-year bonds.
Lending rates: Despite boosted confidence in the euro zone, bank-to-bank lending rates for three-month loans ticked higher on Wednesday.
The London interbank offered rate, or Libor, climbed to 0.43% after rising to 0.423% on Tuesday.
Libor is a daily average of interest rates that 16 London banks charge each other to lend money, and is used as a benchmark to calculate adjustable-rate mortgages and other loans.
Higher Libor rates indicate less lending among banks, while lower levels signal an increasing willingness to lend.