NCR challenges Redbox for DVD-kiosk throne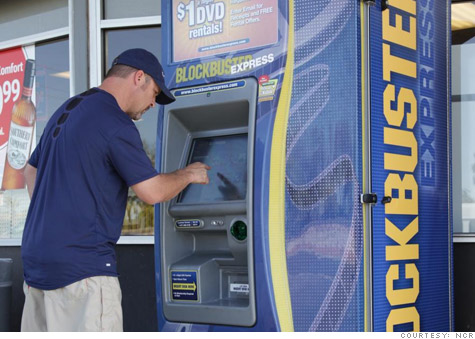 (Fortune) -- No longer content to just process other companies' transactions, NCR wants to take on some of its own.
The nation's largest maker of ATMs embarked on its first retail venture last year by rolling out DVD-rental kiosks across the U.S., a move that's part of a wider strategy to capture a piece of the rapidly transforming entertainment market.
Until now, the red-hot DVD kiosk business has been the mostly unchallenged territory of Coinstar's (CSTR) Redbox, which operates 22,400 machines at locations including Wal-Mart (WMT, Fortune 500), McDonalds (MCD, Fortune 500), and Walgreens (WAG, Fortune 500). Last year, Redbox's kiosks collected $774 million in sales out of an estimated $950 million market.
In tandem with rental-by-mail service Netflix (NFLX), Redbox has upended the video rental industry by providing consumers with $1 per day rentals at convenient locations. Traditional video rental sales fell 23% last year to $3.3 billion and are expected to drop another 18% in 2010, according to Adams Research.
Enter NCR (NCR, Fortune 500), which plans to use its expertise in automated transactions to carve out a share of the kiosk market, which is projected to grow 37% this year to $1.3 billion. Although a latecomer to the game, with only 5,000 kiosks installed, NCR has quickly become a contender.
In 2009 alone, NCR acquired two smaller players, TNR and DVDPlay, giving it an immediate foothold in the market. It promptly began to rebrand the kiosks it acquired under the name Blockbuster Express, thanks to a licensing partnership with the beleaguered video rental giant. NCR claims to have seen a significant lift in traffic to existing kiosks following their rechristening with the Blockbuster (BBI, Fortune 500) name.
"Blockbuster is still an incredibly well known consumer brand," says video industry veteran Will Richmond, whose VideoNuze blog follows the business's twists and turns. "It's always easier to roll out a consumer business when there's awareness of a brand."
NCR picked up another asset last June when it hired general manager of entertainment solutions Alex Camara away from Coinstar after 10 years there, where he was part of the team that acquired Redbox. In addition to picking up DVDPlay, Camara has struck a number of key retail partnerships that include installing Blockbuster Express kiosks at Duane Reade and a number of other grocery and convenience-store chains, which will be essential to NCR's goal of reaching 10,000 kiosks by year's end.
With both Redbox and NCR in a race to populate the nation with DVD kiosks, some may be wondering, how many kiosks do we really need? Will the red Redboxes and blue Blockbuster Express machines one day become as ubiquitous as the red and blue of Coca-Cola (COKE) and Pepsi (PEP, Fortune 500) vending machines?
It's still early in the game. Adams Research predicts the market can support 60,000 DVD kiosks, a milestone predicted for 2014, when the DVD kiosk market is expected to reach $2 billion.
Meanwhile, the proliferation of the kiosks has actually led to an increase in DVD rentals. Total revenue, however, hasn't been keeping pace; the average revenue per transaction is lower, due to the $1 per day price point at the kiosks and to Netflix's subscription rates.
From ATMs to DVDs: a logical transition?
While the DVD kiosk market seems like it can support the entrance of a second player, some are still uncertain if the company will be able to manage the leap from producing and selling ATM software and machines to a consumer-facing retail project.
"It's a very risky endeavor because they got into a business as an entertainment retailer that they knew nothing about," explains Wedbush Securities analyst Gil Luria. "The logistical part of it, the technology part of it, they are absolutely world class. But in terms of making merchandising decisions, negotiating with studios, and finding the appropriate business path, only time will tell if this is a stretch for them."
Analysts and industry watchers are concerned with NCR's ability to deal with the Hollywood studios, especially given the recent litigation between Redbox and the studios.
Unlike traditional video rental vendors, kiosk owners do not share any of their revenue with studios. On top of that, kiosks also cut into DVD sales by offering movie rentals as soon as the DVDs are available, breaking the traditional 28-day window the studios use to protect DVD sales.
Making friends with Hollywood
But Luria believes that NCR will benefit from Redbox's settlement with the studios. "At the least, they can get the same settlement that Redbox has, and at best, they can get something that they feel is even more valuable," he says.
NCR does not currently have any agreement with the studios. But they have an angle they think will appeal to the studios: starting this summer, they plan to use the kiosks to sell DVDs, giving the studios a chance to recoup lost DVD sales revenue and possibly encourage impulse DVD purchases.
To handle the sales, NCR designed its new fleet of kiosks with twice the storage capacity of Redbox kiosks, and the machines also have the ability to sell finished goods. This means DVDs for now, but could one day include video games and music.
Crossing the digital divide
Of course, the number of people looking to rent or buy physical media will gradually dwindle. But NCR has a plan for that too.
Through a partnership with InMotion entertainment, NCR is installing digital kiosks in U.S. airports that will allow travelers to download movies, music, games, and e-books, and transfer them to SD memory cards or USB memory sticks. Eventually, the digital offerings could become available at the DVD-rental kiosks as well.
"There's a clear roadmap of physical [media] being around for a long time to come," says NCR's Camara. "But the kiosks are partly future-proofed."
Getting into the entertainment biz might seem an unlikely venture for an ATM-machine maker. But then again, NCR started out making cash registers in 1884. If anything, the company seems to have cornered the market on changing with the times.