Summit Series: Peace, love and venture capital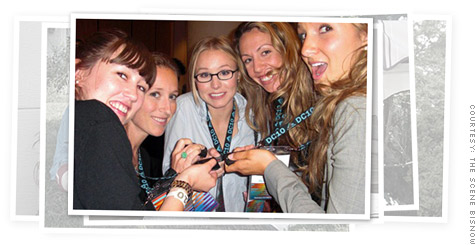 WASHINGTON (CNNMoney.com) -- Seven hundred Generation Y movers-and-shakers gathered in Washington this past weekend to do the MingleStick bump.
Not familiar with the move? It was new to many Summit Series attendees as well, though the flock of twenty- and thirtysomethings was happy to ditch paper business cards in favor of the new networking gadget. At a conference dedicated to helping entrepreneurs, artists, investors and philanthropists make connections, the hallways were filled with melding MingleSticks.
The process is a bit awkward at first. The two minglers have to position themselves just right and stand face-to-face for a moment as they align their flash-drive-like gizmos. Press a button, and zap -- your name, photo, e-mail and whatever other info you choose to share gets transferred. Plugging the device into a PC later uploads all the contact details.
The gadget was a hit with a crowd accustomed to technology-facilitated interactions, where the line between socializing and networking is as blurry as the one dividing work from play.
Like the World Economic Forum in Davos, the conference brings together leaders from a variety of fields to brainstorm about political, cultural and economic advances. But Summit Series targets the rising generation: Its headline speakers included the creators of ventures like DonorsChoose.org, Second Life, Blackboard, Threadless and Craigslist. They and some 650 acolytes came to Washington for the fifth and biggest gathering so far in a series that aims to inspire and train a new wave of innovators.
Their tools: iPhones, BlackBerries, Facebook, Twitter, iPads and those MingleSticks. With them, this generation of leaders can mobilize legions of support in an instant, from the palm of their hand.
"Technology in a flattening world allows us to do a lot more positive," said Justin Fishkin, founder of the Holster Project, a collaborative organization that uses music to raise social awareness of global issues.
Ventures uniting idealism and entrepreneurship were on display everywhere throughout the conference. Panels featured companies like TOMS Shoes, which gives away a pair of shoes in needy communities for every pair purchased by more affluent shoppers, or FEED bags, which donates a portion of the proceeds from the sale of each bag to provide meals for hungry children.
"I never saw myself in the beverage business," Honest Tea co-founder Seth Goldman told attendees at a talk about the advantages of going green. He was focused on the "bigger picture" of creating a product that would be healthier for the environment and for consumers. All-natural tea happened to be the one he started with.
But with a little ingenuity, doing good can pay off both karmically and financially. One of Goldman's innovations was a new bottle design that used less plastic. That environmentally friendly move saved the company millions of dollars.
Or take Method, the cleaning supply company that makes non-toxic scrubbing products. "I think the problem that we have made as an environmental movement is not changing people, but changing the products they consume," said Adam Lowry, the company's co-founder.
To get regular consumers to buy eco-friendly products, the product can't be crunchy, smelly and brown, as Lowry puts it: "The people that matter are the people that aren't already part of the environmental fold."
To keep its supply chain Earth-friendly, Method is pragmatic. It motivates vendors with another kind of green: cash. For every ton of carbon the vendor removes from its manufacturing process, Method pays a bonus. Instead of mandating specific changes, Method lets each vendor decide how to tweak its own processes to meet the goal.
"Sustainability is always aligned with cost," Lowry said. "To me, that is the secret."
The challenge for this generation will be to build on that momentum. Can paintball field trips and tea-and-cookie lounges, just two of the dozens of activities on tap at the weekend's gathering, give rise to meaningful connections?
One prominent Silicon Valley venture capitalist, Sean Parker of Founders Fund, said he wants and expects to see Gen Y'ers more effectively use their social networks -- the growing "social graph" -- for good.
"I would be happy to see more applications that help people derive value from their set of relationships," Parker said in a discussion moderated by David Kirkpatrick, the author of The Facebook Effect.
One of his latest creations is a Facebook application called Causes, which allows any Facebook user to set up a page to raise awareness and money for an issue.
"I am not seeing a lot of interesting new utilities," Parker said. "Currently, you look at the top 10 [applications] on Facebook, it is like nine games."
Tapping the ingenuity that built those games -- and creations like Facebook itself -- to tackle deeper issues is the goal many of the gathering's featured entrepreneurs say they share.
Ronnie Cho, a community editor at The Daily Beast who worked on President Obama's campaign before joining the news site, sees what he calls a "groundswell" of ambition and optimism in Generation Y. Summit Series attendees left Washington with fully loaded MingleSticks, but the key will be to see what they do with those Mingle bumps and digital contacts.
"To connect that online activity and enthusiasm to offline outcomes is going to be the most meaningful part of Web 2.0," Cho said.