Online dating without the creepy strangers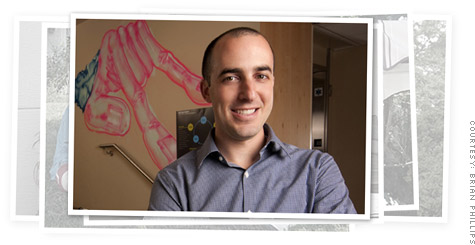 (CNNMoney.com) -- Katherine Woo was hanging out with two former PayPal coworkers at her San Francisco loft last spring, brainstorming business ideas on the sofa. Then one got distracted by a cute girl on Facebook.
"Who's that?" Brian Phillips, 35, asked.
Skye Lee, 38, peered over his shoulder and shook her head. "I've got someone better for you," she told him, logging into her account and showing him another potential match. Phillips asked for an introduction.
The subsequent date didn't go very far, but it gave the three friends an idea. Why not make it easier to do what they were already doing: using Facebook to pair up their single friends?
"I knew my future wife was almost certainly on Facebook," says Phillips. "I just had a search problem."
So Phillips, Lee and Woo launched Thread.com. The site lets singles view profiles of their friends' pals and request introductions. Would-be matchmakers can also use Thread's tools to sort through their own lists, seeking out -- and offering to match up -- possible soulmates.
For those worried that e-dating means hanging out with creepy strangers, friend-based connections offer a layer of reassurance, a sort of Good Housekeeping seal. After all, this is the way most people really meet in non-virtual life -- through friends and family introductions.
Facebook already has all the raw ingredients of the largest dating site in the world. More than 400 million people worldwide have profiles. And since Thread relies on users' pre-existing profiles, rather than asking them to create new ones, it takes less effort to get started than most online dating outlets.
Last year, Thread landed $1 million in venture funding from First Round Capital and Sequoia Capital. Angel investors, including RottenTomatoes.com CEO Joe Greenstein and LinkedIn founder Reid Hoffman, also put in additional $200,000.
Thread initially survived off seed money from fbFund, a $10 million fund that makes individual $10,000 to $50,000 investments in Facebook-related startups. Financed by Facebook, the Founders Fund and Accel Partners, the fund has mentored, incubated or funded 55 entrepreneurs since 2008.
Thread's founders spent three months inside a fbFund business incubator in Palo Alto, Calif., alongside 15 other startups. The cohort included Groupcard, which lets users collaborate to send greetings and gift cards together, and Wildfire, which runs Facebook promotions for such brands as Pepsi, Zappos and Red Bull.
Along with the perks, Thread's close ties to Facebook bring a few risks.
"If Facebook decides to do something, Thread must follow along, and in one fell swoop it could take their bottom line with it," says Mark Brooks, an Internet dating industry consultant based in New York City. Facebook is already at the center of a firestorm over privacy issues, thanks in part to the site's changing policies on sharing user data with external sites including Pandora, Yelp and Microsoft Docs.
Thread still has to figure out how to monetize its matchmaking, whether through advertising, subscriptions or virtual gift-giving. The company also faces hordes of rivals: There's a new wave of dating sites targeting everyone from Apple fans (Cupidtino) to Ivy Leaguers (PondiGo). One of the newcomers -- AreYouInterested.com --- lets people flip through Facebook photos of singles who live nearby.
Phillips hopes Thread will stand apart by cultivating an atmosphere that's subtle and friendly -- the opposite of a meat market. "We are getting people who would never use a dating site because of the stigma," he says.
To that end, Thread even shies away from the word "date." The company recently nixed an ad on Facebook with the line "Meet cute girls in San Francisco" in favor of "Meet friends of friends in San Francisco." That lightweight approach has won over some early users in the Bay Area, where Thread has focused its initial efforts.
"It's very low-key," says a male engineer, 32, who wished to remain anonymous. His first Thread date went so well, it led to a second one.
"I have never signed up for any other dating service, and yet this one somehow drew me in," he says. "I didn't have to sign up for anything. I could immediately start playing with it."
Roelof Botha, a partner at Sequoia Capital, had already tried his hand at Facebook matchmaking -- cutting and pasting his friends' profiles and sending awkward e-mails back and forth -- when the Thread business plan hit his desk. "A lot of people were doing this manually, so I thought, 'What a wonderful idea,'" he says.
Brooks, the Internet dating industry consultant, agrees: "They're bottling what we already do in the real world."