Treasury yields bounce back
NEW YORK (CNNMoney.com) -- Treasurys fell Friday, erasing earlier session gains that had pushed the 10-year yield to a one-year low.
What prices are doing: The benchmark 10-year note fell 5/32 to 102-9/32, pushing the yield up to to 3.23% from 3.22% on Thursday. Bond prices and yields move in opposite directions.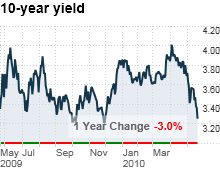 Earlier in the day, the 10-year note's yield fell to 3.10%, the lowest since May 18, 2009. The last time benchmark's yield fell below 3% was around the height of the credit crisis in November 2008.
The 30-year bond lost 4/32 to 104-25/32 and yielded 4.10%, while the 5-year note shed 4/32 to 102-9/32, yielding 2.02%. The 2-year note edged down 3/32 to 100-15/32, yielding 0.77%.
What's moving the market: Earlier in the session, worries about European debt and its impact on the global economic recovery continued to drive demand for the safety of U.S. government debt, triggering a sell-off in stocks.
Buying eased later in the morning as investors returned to riskier assets.
But without any drastic shifts in sentiment, the swing could be a relief rally for stocks and keep Treasurys holding in a tight range, said Bill Larkin, a portfolio manager at Cabot Money Management.
"As Europe focuses to address its spending and debt issues, investors' fears about deflation are rising and their uncertainty will feed into the Treasury market," he explained.
"When you start to get close to 3%, a red light starts flashing on the dashboard," he added. "Investors buy 10-year notes for safety and liquidity. We have a debt problem right now, but we don't want a credit crisis or liquidity issues from the euro zone crisis."
What analysts are saying: If uncertainty around Europe's debt crisis persists, Treasury prices could approach levels close to that of the credit crisis. But if the region arrives at a solution that boosts confidence among investors, Treasury prices will likely retreat and yields will bounce back, Larkin said.
Those concerns caused stocks to plunge Thursday, bringing markets into correction territory, a technical term for when stocks fall more than 10% from their highs.
"Now investors are questioning whether we are in a correction phase or entering a bear market, and they'll be balancing between those two directions until there is more news out of Europe," Larkin said.