Climate hacking for profit: a good way to go broke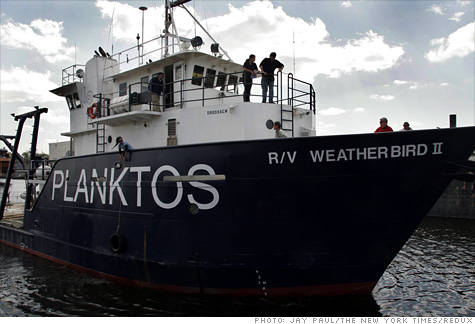 FORTUNE -- The newest cause on the radical fringe of environmentalism is opposition to geoengineering -- the large-scale manipulation of the Earth's climate, in an attempt to reverse global warming. Essential to the argument being made by the Hands off Mother Earth effort - dubbed HOME -- is the notion that planet-hacking, as I call it, might someday be done for profit.
Yet while corporate geoengineering is a disturbing concept, it's unlikely to amount to much, at least for the foreseeable future. In fact, companies attempting weather-changing for fun and profit have already sputtered quite badly in their nascent attempts.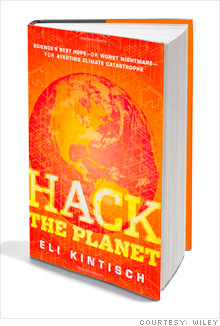 Geoengineering comes in a variety of increasingly wild flavors. The most talked-about ideas include brightening clouds, altering the stratosphere with pollution on purpose, and creating giant machines to remove carbon dioxide from the atmosphere.
At this point most methods are little more than pipe dreams, with a handful of relevant scientific papers and modeling studies by academics behind them (The American Geophysical Union, the UK Royal Society, and this week, a new report by the National Research Council have said the controversial work is necessary in case of climate emergency.)
But HOME's supporters, made up of some 71 left-leaning environmental groups from around the world, are convinced that scientists pursuing geoengineering schemes are a "geoengineering lobby" made up of "profiteers" bent on altering the planet's climate for money.
In a recent press release they point to a $300,000 grant for cloud-brightening research arranged by scientists tasked by Bill Gates to distribute his money. "Bill Gates and his cloud-wrenching cronies have no right to unilaterally change our seas and skies in this way. A global moratorium on geoengineering experiments just became a whole lot more urgent," says Jim Thomas, a spokesperson for the effort.
For-profit geoengineering: so far, a red herring
The first for-profit geoengineering company to announce plans to conduct large-scale operations was Planktos, a California-based company which sought in 2007 to sell $5 credits for each ton of carbon dioxide it would remove from the atmosphere. It would work its de-carboning magic with six giant oceanic algae blooms, catalyzed with iron.
The first bloom was to be a 3900 square mile project outside the Galapagos Islands, west of Ecuador in the Pacific Ocean. But that project, led by the smooth talking environmentalist Russ George, got shut down after environmentalists alerted various governments, including the United States and Spain, which expressed their opposition to the project.
The public relations disaster ended with the Planktos vessel Weatherbird circling the Spanish Canary Islands, with officials refusing it entry.
But the project would have likely made little or no money anyway - the UN agency which approves officially traded carbon offsets has shown little interest in certifying iron fertilization credits as part of the cap and trade programs. And any environmentally conscious company interested in offsets probably would've looked to credits in forestry or alternative energy, which, while they have their problems, are far less sketchy.
The second effort at corporate geoengineering was a more polished and scientifically credible attempt from a company called Climos, which also sought for-profit iron fertilization. The public face of the effort was Margaret Leinen, former head of geosciences at the National Science Foundation. Her son, successful tech entrepreneur Dan Whaley, was the CEO.
As Planktos's effort fizzled out, Leinen and Whaley tried to convince officials with the London Convention (the maritime anti-dumping international watchdog) that commercial efforts should be written into new rules set up to govern the experimental technique, but delegates rejected that notion in 2008. Planktos has subsequently downsized and says it will offer "logistical" services for future iron fertilization efforts.
Regulators foiled the best laid geoengineering plans
For both Planktos and Climos, risky business plans ran up against existing governmental or international regulators whose authority carried the day. Planktos Science has done little despite George's attempts at restarting operations. Leinen quit Climos to start the nonprofit Climos Response Fund, which Whaley said would fund Climos's field experiments. But when prominent scientists got word of that possibilitylast year, Leinen was forced to promise that her fund would not fund "climate intervention techniques" after all.
Balancing out the profit motive
It's not that these companies are inherently evil, attempting to control the weather like some kind of James Bond villain- it's that the lack of sufficient rules, or patchwork international regulation, can lead to environmental disaster in search of profits. For example, the BP oil spill in the Gulf of Mexico probably wouldn't have happened if blowout preventer valve regulations in the US matched those of the more stringent European Union.
So far, geoengineering the ocean for carbon credits has been a big flop. That makes it hard to imagine for-profit companies coming up with business plans for creating enormous swaths of micro-bubbles or hacking the stratosphere, two other faddish techniques. It's much more likely that countries scared about the effects of global warming -- rather than companies -- would consider deploying such wild alternatives without a clear money-making scheme in place.
Climate hacking: a new fascination for billionaire philanthropists
Gates has contributed $4.5 million in the last few years to academic and private scientists exploring geoengineering and advanced energy producing technologies. But there's no evidence that he expects to make any money off the investment, the same way that he doesn't expect to profit from the billions of dollars he has contributed to fight infectious diseases around the world.
So it's telling that HOME's advocates are demonizing Gates' support for research as a way to bolster attention for their efforts. Again, geoengineering is still a disturbing concept, and companies need to be supervised if they're engaging in it. But while the involvement of the second richest man in the world may be sensational, it's not nefarious.
Science reporter Eli Kintisch is the author of the new book Hack the Planet: Science's Best Hope - or Worst Nightmare - for Averting Climate Catastrophe