Arizona to Obama: We need Predator drones!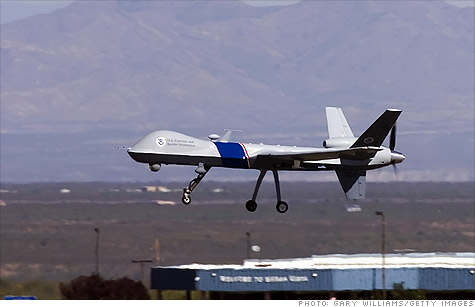 NEW YORK (CNNMoney.com) -- Unbowed by a raft of boycotts over her immigration policy, Arizona Gov. Janice Brewer has requested helicopters and unmanned aerial vehicles from the White House to patrol the border region with Mexico.
Brewer, in a letter to President Obama, asked that the National Guard reallocate reconnaissance helicopters and robotic surveillance craft to the "border states" from other parts of the country.
The governor specifically asked for OH-58 Kiowa helicopters, used by the military for reconnaissance, noting that Arizona currently has only four of them "available for border missions."
"These helicopters are extremely valuable assets in supporting law enforcement efforts on the ground," she wrote. "The number available, though, is inadequate to provide the kind of support needed on the Arizona border."
The governor said that a fleet of eight to 10 Kiowa helicopters "would enable us to double our border coverage to 2,000 hours per year. To be effective, these additional aircraft must be equipped for day and night operations."
Her letter included a map showing the state-by-state allocation of Kiowa helicopters, as well as newer Lakota helicopters.
The governor also requested "wider deployment of unmanned aerial vehicles (UAVs) along our nation's southern border." UAVs are flying, remote-controlled robot drones that are widely used in Iraq and Afghanistan.
There are several different military models that fall under that description, including the Hunter, Predator, Reaper and Global Hawk, but the governor didn't request a particular type.
"I am aware of how effective these assets have become in Operations Iraqi and Enduring Freedom, and it seems UAV operations would be ideal for border security and counter-drug missions," said the governor.
Her letter was dated May 20, the day that Mexican President Felipe Calderon met with Obama at the White House, condemned Arizona's new immigration law before Congress and later attended a state dinner
The new law, which goes into effect in July, requires police to "determine the immigration status" of anyone under "reasonable suspicion" of being an illegal alien. The most significant detail in this law is that it shifts this responsibility -- normally accorded to federal immigration authorities - to state police.
The governor, who signed the bill into law on April 23, maintains she is trying to pick up the slack for the federal government in cracking down on illegal immigration, including drug and human trafficking, along the border.
The boycott
But the law's opponents are concerned that it endorses racial profiling. Gerry Miller, chief legislative analyst for Los Angeles, said in a May 11 analysis that the Arizona law will "promote racial profiling, discrimination and harassment." Obama, during a press conference with Calderon, called the bill a "misdirected expression of frustration."
The city council of Los Angeles is boycotting doing business with and traveling to the state of Arizona. Estimates of the economic impact range from $10 million to $56 million.
But boycotting Arizona isn't so simple. The Arizona Corporation Commission, which oversees for the state's electric and water utilities, said the state's power plants supplies 25% of Los Angeles. In response to the boycott, Arizona Corporation Commissioner Gary Pierce offered to pull the plug on the City of Angels -- though he emphasized that this would require renegotiations between the city and the power plants.
Further complicating the matter, Los Angeles is part owner of two of the Arizona power plants.
"I am confident that Arizona's utilities would be happy to take those electrons off your hands," wrote Pierce to Los Angeles Mayor Antonio Villaraigosa.
But so far, the power remains on.
Brewer spokesman Paul Senseman noted recently that the Constitution "specifically prohibits economic blockades by a state or city against another."