Treasury rates' 'amazing' slide continues
NEW YORK (CNNMoney.com) -- Treasury prices rallied and yields slipped Tuesday as confidence in the global economy dropped and investors flocked to the safety of the bond market.
Fear in the marketplace has fueled Treasury prices and pressured yields over the past month. While the 10-year yield was about 4% a month ago, it is now hovering near 3%, signaling a plunge in risk appetite.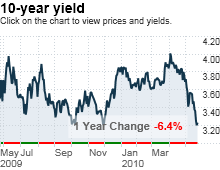 Treasurys are viewed as low-risk investments since they are backed by the U.S. government, and they are therefore particularly attractive during times of economic uncertainty.
"It really is amazing what a long way Treasurys have come in a very short period of time," said David Coard, head of fixed-income sales and trading at The Williams Capital Group. "It's certainly not based on the fundamentals of the economy, because the economy is in better shape. The reason they are so rich is the uncertainty developing because of the European debt crisis."
What prices are doing: The benchmark 10-year note rose 9/32 to 102-27/32, yielding 3.17% after dipping to 3.06% earlier, the lowest level in 13 months. Bond prices and yields move in opposite directions.
The 30-year bond added 12/32 to 105-10/32 and yielded 4.07%, while the 5-year note edged up 1/32 to 102-13/32, yielding 2%. The 2-year note was the one exception, losing 2/32 to 100-15/32 and yielding 0.77% after a $42 billion auction of 2-year notes was met with lackluster demand.
"Where Treasurys have come recently is largely a result of a huge flight to quality," said Coard. "This has happened because of what is expected to be a widening of the European debt crisis. And today, the stock market's sell-off will be a big factor."
Stocks ended mixed Tuesday after plummeting in early trading as investors continued to worry about the spread of debt in the euro zone, despite a massive $1 trillion aid package created for the region earlier this month.
The demand for safe-haven Treasurys was further boosted by reports of rising tensions between North Korea and South Korea, said Coard.
Lending rates on the rise: The euro zone's debt crisis has also taken a hit on interbank lending, which has caused banks to raise lending rates and become more hesitant to loan to each other, said Coard.

Bank-to-bank lending rates for three-month loans have been ticking higher over the past month and continued to rise Tuesday, with the London interbank offered rate, or Libor, creeping up to 0.536% after edging up to 0.51% on Monday.
"This is collateral damage from the European debt crisis," said Coard. "Banks are now subject to more nervousness when they lend in the interbank market."
Libor is a daily average of interest rates that 16 London banks charge each other to lend money, and is used as a benchmark to calculate adjustable-rate mortgages and other loans.
Higher Libor rates indicate less lending among banks, while lower levels signal an increasing willingness to lend. Unless a solution is found, this uncertainty will continue to push both Libor rates and Treasury prices higher, he said.
"Until a solution is found, things settle down and people develop comfort with what is being done [in the euro zone], I think we're subject to a flight to quality, meaning high Libor levels and lower Treasury yields," he said. "But when some sort of security returns, the risk appetite will return with it."