Yahoo still searching for a strategy
NEW YORK (CNNMoney.com) -- Do you Yahoo?
That was a slogan the Internet company used to use in its ad campaigns. But for investors and tech geeks these days, a more appropriate question is this: What is Yahoo?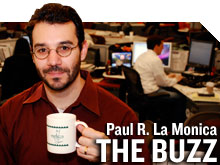 The perennial second fiddle to Google (GOOG, Fortune 500) has struggled to find itself over the past few years. We're a content company! No, we're a tech company! Maybe we're both?
Since the beginning of 2007, Yahoo (YHOO, Fortune 500) has had three different CEOs. But analysts say little has changed from Terry Semel to Jerry Yang to Carol Bartz. Yahoo is still searching for direction.

"Yahoo is still a work in progress which is what you could say about them a year ago and for several years," said Martin Pyykkonen, an analyst with Janco Partners.
Representatives from Yahoo were not immediately available for comment. But the company is hosting an analyst day on Wednesday. That will give Yahoo an opportunity to try and explain its strategy in more detail.
Last week, Yahoo acquired Associated Content, an online news site that relies on freelancers and dubs itself the People's Media Company.
On Tuesday morning, Yahoo announced it was buying Koprol, a location-based social networking firm in Jakarta that has been described as the Foursquare of Indonesia.
On the surface, both of those deals indicate that Yahoo wants to be a leader in online content and mobile technology -- and that it wants to own the technology behind it.
But at the same time, Yahoo also unveiled two partnerships on Monday that show that the company is willing to outsource in areas where it feels it's not a leader.
The company announced that it was dumping its Yahoo Personals brand in favor of Match.com, an online dating site owned by Barry Diller's Internet media conglomerate IAC/InterActiveCorp (IACI).
Separately, Yahoo said that Nokia (NOK) will provide map and navigation services for Yahoo. (Nokia acquired GPS firm Navteq in 2008.)
Sandeep Aggarwal, an analyst with Caris & Co., said Yahoo seems to be more interested in offering a potpourri of online content in order to attract a wide audience that it can then tout to advertisers.
"Yahoo's strategy is not fully clear. The company is providing an experience for users but in many cases it doesn't own the platform," Aggarwal said.
He was referring to the fact that Yahoo is still a classic "portal", a site whose main purpose is to send people elsewhere -- and not always to sites owned by Yahoo.
He pointed to other arrangements such as its soon-to-start joint venture with Microsoft (MSFT, Fortune 500) and Bing in search, partnerships with Facebook and Twitter and decision to sell HotJobs to Monster Worldwide (MWW) as evidence that Yahoo doesn't feel the need to own everything when it can partner instead.
That's all well and good. But why should users keep going to Yahoo just to access their Facebook or Twitter pages, for example, when they can go to Facebook or Twitter directly? Why search on Yahoo if it's going to be powered by Bing when you can just go to Bing?
In addition, neither of the partnerships unveiled Monday are likely to give Yahoo what it desperately craves and needs: a sense that Yahoo is cool.
Match.com was once the preeminent online personals site but has lost some ground to upstarts like free service PlentyofFish. Nokia, while still a global leader in the mobile market, is struggling (especially in the U.S.) to remain as relevant as the likes of Apple (AAPL, Fortune 500), Google and BlackBerry-owner Research in Motion (RIMM).
Marianne Wolk, an analyst with Susquehanna Partners, wrote in a report Monday that other sites, such as Facebook and Google-owned YouTube, do a better job of keeping users engaged.
In other words, Yahoo can boast to advertisers that it attracts a lot of people. It just needs to do a better job of keeping those people at Yahoo for longer stretches of time.
Wolk argues that may be a reason why Yahoo has experienced a slowdown in page view growth since 2008. She adds that Yahoo risks losing advertising market share, particularly in the lucrative world of display ads (i.e. video, banners and other non-search ads), if it is not able to reverse the trend.
As such, Wolk wrote that two of her key concerns are essentially unchanged from a year ago: What exactly are Yahoo's areas of focus? General news? Business news? Sports? And does it make more sense to keep buying other sites or develop "more compelling content" internally?
Some analysts want Yahoo to make more moves like the Associated Content deal.
"With the acquisition of Associated Content,Yahoo is furthering its evolution into a content producer, which we support as we believe Yahoo needs to provide more exclusive content," wrote Aaron Kessler, an analyst with ThinkEquity Partners in a report Tuesday.
Only time will tell if Bartz continues to look more at acquisitions and less at partnerships. Wolk mentioned that there is speculation Yahoo could buy Foursquare. She also cited chatter about Fwix, a network of local news feeds that competes with Patch, a local news site owned by AOL (AOL).
But one thing is certain. Yahoo needs to convince Wall Street and advertisers that it is more than simply an aggregator of content or gateway to other sites that users will spend more time on -- and it needs to prove that soon.
"Advertisers are looking for more targeting. Yahoo is so generic these days. Yahoo is not asleep at the wheel but the company needs to do more," said Pyykkonen. "The days of getting a premium from advertisers just because you have more traffic are gone."
- The opinions expressed in this commentary are solely those of Paul R. La Monica.