Cap on oil spill damages under fire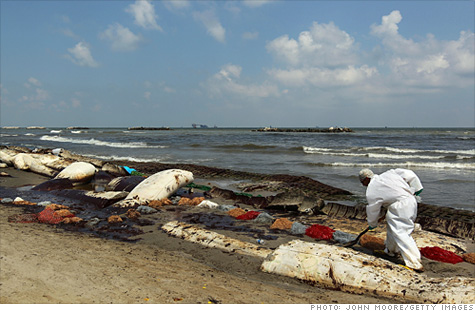 NEW YORK (CNNMoney.com) -- Lawmakers tore in to administration officials Tuesday, saying the law that may limit BP's liability for economic damages to $75 million needs to be changed retroactively.
"A year from now the TV cameras will not be there, and some fisherman will go try to get damages from BP, a multibillion dollar company," Sen. Bernie Sanders, I-Vt., said during a Senate Energy and Natural Resources Committee hearing. "He won't stand a chance."
Representatives from the Obama administration said they support eliminating the cap on liabilities for large operations, but do not feel it's needed retroactively.
BP's public comments that it will not seek protection under the cap, plus the uncertainty that the cap would apply in the BP case anyway, makes a retroactive change unnecessary, the administration said.
"We think we will be able to recover every single dime that's expended by the tax payers," Thomas Perrelli, Associate Attorney General at the Justice Department, told the panel.
The $75 million liability cap was enacted in 1990 as part of the Oil Pollution Act following the Exxon Valdez spill.
The act sates that company that owns the oil in any spill must pay for all clean-up costs, as BP (BP), the owner of the Gulf oil well that exploded last month, is currently doing.
But the act also says the amount companies may be responsible for in damages - things like lost days for fishermen or money to rehabilitate wetlands after the oil is removed - may be capped at $75 million, providing the company didn't violate any regulations in the lead up to a spill. Damages in excess of $75 million would be paid for by the government with money from a tax on oil designed for just such a purpose.
The cap has received much attention in recent weeks, and there have been several bills introduced to raise or eliminate it. There have also been proposals to raise the tax on oil so the government's fund, which currently stands at about $1.5 billion, could pay out up to $10 billion.
BP has repeatedly said it will not seek protection under this cap or money from the government fund. It has even provided written statements to that effect, said Perrelli.
Still, many Senators weren't buying it.
"Exxon said similar things after the Valdez, then they litigated all the way to the Supreme Court, said Sen. Robert Menendez, D-N.J. "It took decades to sort out."
There has been some opposition to raising or eliminating the cap, especially doing it as quickly as some of the bills have proposed.
"Is $20 billion the right figure," asked Sen. Lisa Murkowski, R-Alaska. "I don't know, maybe it is, but we need to take the time to ensure we are building good policy on this."
There have also been concerns that raising or eliminating the cap will make insurance for offshore drilling prohibitively expensive, curtailing this country's oil production and raising oil and gasoline prices.
Transocean in the cross hairs
After weeks focusing on BP, lawmakers and administration officials also took the opportunity to criticize Transocean, the company that owned the ill-fated drilling rig working for BP.
In particular, they disliked Transocean's insistence in hearings earlier this month that it was not responsible for the oil spill, then its filing in a Houston court just a few days later attempting to limit any liability to $26 million.
"What Transocean is attempting to do there is inappropriate," said the Justice Department's Perrelli, noting that the statute Transocean filed under was the same one used by the owners of the Titanic to limit their liability.
Transocean's decision to pay out $1 billion to shareholders just a few days after the legal filing also disturbed some lawmakers.
"For a company that said it did nothing wrong, this company is working pretty hard to insulate itself from an accident that involved its drill rig and crew," said Sen. Ron Wyden, D-Ore. " It seems like a pattern of activity that the [justice] department should look into thoroughly."
Transocean (RIG) issued a statement saying the dividend was announced before the spill, and that it was not trying to avoid any legal liabilities.
"The payment of this dividend will not impact the company's ability to meet its legal obligations relating to the Deepwater Horizon accident," said the statement.