Oil for U.S. and Cuba's troubled waters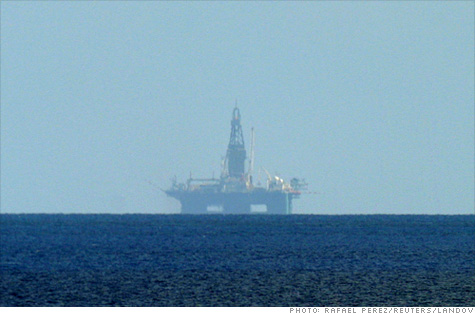 (Fortune) -- Among the many good reasons to jettison our failed economic embargo against Cuba is one with timely new resonance: oil.
Cuba has plenty of it -- offshore in its exclusive economic zone (EEZ) -- and exploration is about to being in earnest with American companies stuck on the sidelines.
The U.S. Geological Survey estimates the nation has about 4.6 billion barrels and nearly 10 trillion cubic feet of natural gas in the North Cuba Basin, and possibly four times that much in its portion of the Gulf of Mexico. The lower estimate would put Cuba on a par with Ecuador or Colombia.
But monetizing these resources is a real challenge: The 48-year old U.S. embargo and Washington's diplomatic muscle have thwarted any real progress so far. But this edifice is under siege. The Spanish, through their energy giant, Repsol, are bringing a deep-water oil drilling rig to Cuba this fall.
Trade sanctions dictate that the rigs can not contain more than 10% of U.S.-made components, which can include software. Most rigs worldwide typically top that. To get around the restrictions, Repsol contracted for a Chinese, purpose-built rig from Saipem, the offshore drilling unit of Italy's Eni, SpA, which will operate the rig. When Repsol first drilled off Cuba's shore in 2004, its core samples were promising enough to bring on partners for this go-round, including Norway's Statoil and India's national oil company. Repsol did not reply to repeated requests for comment.
After Repsol starts drilling, other international oil companies with concession acreage off Cuba are expected to hire the Saipem rig, explains Jorge Pinon, a Cuban energy expert, with 32 years industry experience, including a stint as president of Amoco Oil Latin America before retiring in 2003 from BP, which had taken over Amoco.
"That rig is going to hang around in Cuban waters for quite a while," says Pinon, now a Florida International University fellow. "And if any of these drilling jobs hit pay dirt and substantial reservoirs are found, then the pressure in Washington is going to be such that you will see the embargo, as far as the oil industry is concerned, falling apart."
Fears of another spill
More worrisome to some is a petroleum stampede in Cuba with American companies -- and their environmental standards -- on the sidelines
"The sobering fact that a Cuban spill could foul hundreds of miles of American coastline and do profound harm to important marine habitats demands cooperative and proactive planning by Washington and Havana to minimize or avoid such a calamity," argues a recent Brookings Institution briefing paper.
Cuba's EEZ stretches to less than 50 miles from Key West but the embargo prohibits the U.S. from offering any assistance at all; by contrast there are agreements in place with Canada and Mexico to facilitate U.S. aid.
Both Statoil and Saipem have extensive deepwater experience, but other operators in the 59 Cuban concession areas -- held by the Chinese, Vietnamese, Malaysians, Venezuelans, among others -- don't or have less stellar environmental records.
Fears of a spill like that at the BP-contracted Deepwater Horizon rig might be an argument for the U.S. to try to head off Cuban exploration, but that seems an increasingly untenable tack, especially because Havana has been offering U.S. companies part of the action for years.
A history of failed efforts
Politics have derailed earlier overtures: During a 2006 summit in Mexico between Cuban officials and U.S. oil executives, the U.S. Treasury insisted the Cubans be booted from the U.S.-owned hotel where they were staying. But industry is again quietly lobbying, and Washington seems to be listening. After trying for a year to get a license to visit Cuba, the Houston-based International Association of Drilling Contractors was recently granted one to go to Havana, which was first reported by Cuba Standard, the leading independent site for business news on Cuba.
"It's inevitable that Cuba will explore and exploit their offshore hydrocarbon resources, and it would benefit both the American public and the Cuban people to make sure it is done right," argued a recent IADC position paper circulating in Washington.
Even more potent is the lobbying heft of the Petroleum Equipment Suppliers Associations, whose members include Halliburton (HAL, Fortune 500), Fluor (FLR, Fortune 500) and Bechtel. Industry sources credit PESA for a provision in a pending energy bill that would permit extensive industry contacts with Cuba.
A member company executive confirmed the industry sees "great opportunity" in Cuba while expressing concern that the time it takes to work out suitable conditions -- tax protocols, IP and contract sanctity protection -- could leave American companies trailing their international rivals.
Lifting or relaxing the embargo is just one step the Obama administration needs to take toward opening two-way trade with Cuba. The only real exception to the embargo -- for U.S. agricultural sales approved after 2001's devastating Hurricane Michelle -- is stymied because credit-starved Cuba has to pay cash up front. Removing that restriction could double sales to roughly $1.5 billion a year.
That is part of the "tremendous authority" the president has to advance bilateral relations, argues Jake Colvin, vice president for global trade issues at the National Foreign Trade Council, which opposes the embargo.
The Council recently joined eight other leading business organizations to support the pending Freedom to Travel to Cuba Act, to better position American businesses for the eventual lifting of the embargo. Seeing Exxon Mobil (XOM, Fortune 500) invest in Cuba probably requires "fundamental change" in bilateral relations, Colvin adds.
Not everyone wants the embargo to go
That the White House, and a Democratic Congress, haven't done more to jump-start that process has frustrated some supporters who note the sway that Cuban exiles have with Washington.
Albert Fox, Jr., founder of the Alliance for Responsible Cuba Policy, points to an April 15 fund-raiser in Miami that reportedly netted $2.5 million for President Obama. The event was hosted by the singer Gloria Estefan, whose father served as a bodyguard to Cuban dictator, Fulgencio Batista, who was overthrown by Castro in 1959.
"This perception that things are loosening is just nonsense. The embargo is tighter today than it has been at any time in the last 51 years," argues Fox.
But even though calls for lifting the embargo grow louder as Cuba's current leadership appears ready to change, many warn the U.S. not to jump the gun.
"American companies need to take in to account business interests are not necessarily the national interest all the time," said Frank Calzon, executive director of the Center for a Free Cuba, and independent organization promoting a democratic transition in the island-nation. "The Cuban regime is coming to an end, there is no question that they are on their last phase now and I think this is the worst possible time for anyone to try to invest."
--Contact Ken Stier at kenfortune@earthlink.net.