Eliot Spitzer, anchorman?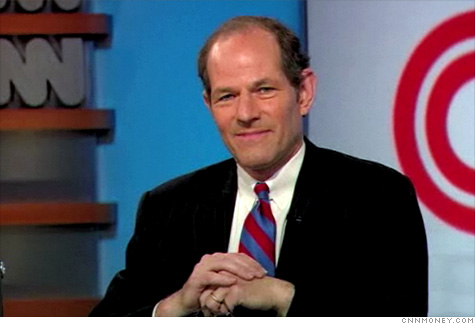 (Fortune) -- Why would Eliot Spitzer want to become a TV host?
Let me count the ways.
He's not running for anything (not right now, anyway).
Two years after resigning as governor of New York in a prostitution scandal -- and after many hours spent toying with an early leap back into politics -- Spitzer has finally reconciled himself to remaining on the sidelines in 2010.
For months, Spitzer practically drooled at the thought of taking on potential targets. He's not a fan of attorney general Andrew Cuomo's, who is heading toward coronation as New York's next governor. He views U.S. Sen. Kirsten Gillibrand as a woman of fungible beliefs, ripe for primary challenge. And he regards state comptroller Tom DiNapoli, a likeable former assemblyman elevated to the job in early 2007 by his legislative peers, as a lightweight. (Days after taking office, DiNapoli flunked a pop quiz on finance -- administered by the New York Post!)
But as a new poll has just confirmed, despite the financial meltdown (which Spitzer takes as vindication of his warnings about Wall Street deregulation), most New Yorkers aren't ready for a Spitzer comeback. DiNapoli's such a political weakling that Spitzer might be able to beat him anyway if he were willing to engage in a bit of political slumming. Spitzer has mused about the potential to use the comptroller job (and its control over billions in state pension funds) to lead a shareholder-activist crusade for corporate reform. And he could use the office's power to audit state agencies to drive Governor Cuomo batty.
It would be a way for Spitzer to simultaneously do a sort of penance while returning to politics. But serving as comptroller would also require a return to Albany -- a place that Spitzer came to despise. So he -- and his family -- have come to accept that it's the wrong job, at the wrong time.
TV keeps him in the game.
Spitzer hates sitting on the sidelines. That much has been evident by his virtually nonstop multimedia presence since mid-2009. He writes a twice-monthly column for Slate, the online magazine; he gives speeches and appears on panels; he grants newspaper and magazine interviews; he's a guest on television and radio, for shows that are national and local, large and small. Spitzer's determined to have his voice heard, in every way possible.
When he lost his first run for attorney general back in 1994, Spitzer did much the same thing, assuming the role of a talking head on such cable shows as Geraldo and Fox News' Hannity and Colmes. In early 1998 he boasted of having appeared on 10 separate programs in a single week (the topic: the Monica Lewinsky sex scandal).
A regular TV gig now would serve the same purpose, with less of the sense than his present arrangements of a man laboring frantically to be heard. Spitzer would be able to build a fresh relationship with an audience, discussing subjects unrelated to prostitution and tempering all those nasty memories of him as "Client 9." Such a role would simultaneously maintain his public profile and launder his image, as other presumptive candidates-in-waiting (Sarah Palin, Mike Huckabee) have also recognized.
He's pretty good at it.
Spitzer was raised by his parents, practically from toddler days, to debate serious issues around the family dinner table. The Spitzer mealtime conversation was preparation for a career on Crossfire. The 8 p.m. slot, which he's discussing with CNN (recently vacated by the ratings-challenged Campbell Brown), would pit him against a pair of blustery ideologues -- Fox's Bill O'Reilly and MSNBC's Keith Olbermann.
But while Spitzer's more than capable of raising his voice (just ask former Goldman Sachs chairman John Whitehead), don't expect him to try to out-shrill his cable competition. It's not how CNN, which didn't return calls for comment, would likely want it. Nor, for that matter, does Spitzer want to play the role of screamer. In recent weeks the former governor's done several turns filling in for MSNBC's Dylan Ratigan. There he showed a surprising slickness with the rushed pace and cutaways of cable news talk-hosting ("When we come back ..."), as well as skill for both eliciting -- and civilly challenging -- the views of ideological opposites, such as libertarian congressman Ron Paul.
The fireworks for The Eliot Spitzer Show wouldn't come from shouting. They'd result from intellectual heat: the brisk, sharply argued clash of ideas -- as well as the presence of a man struggling to emerge from the cauldron of a sex scandal. Whether that's enough to produce a ratings spark for CNN is another question.
Fortune editor-at-large Peter Elkind is the author of the recently published Rough Justice: The Rise and Fall of Eliot Spitzer.