Satirists cash in on oil spill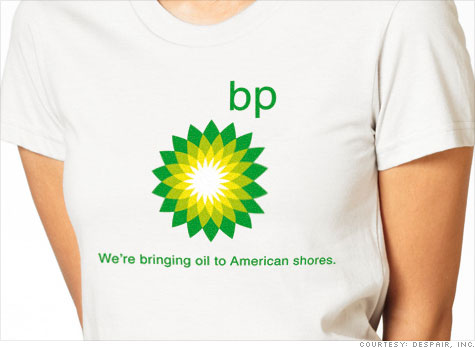 NEW YORK (CNNMoney.com) -- BP's oil spill is an expensive disaster for the Gulf Coast, but it's turning into a gold mine for satirists.
Hundreds of parody products are now on sale across the Web, taking aim at BP's sunburst logo and "responsibility" pledges. There's tote bags and buttons on Etsy, coffee mugs on Zazzle, and t-shirts on nearly every e-tail site with a PayPal button.
Buyers are snapping them up. Despair Inc., a popular retailer of black-humored merchandise, got into the game early, releasing a t-shirt three weeks ago with the slogan "BP: We're bringing oil to American shores."
A typical bestselling product moves a few hundred units for the small, Austin-based company. The BP design has sold a close to 2,000 shirts, according to Lawrence Kersten, Despair's co-founder.
"When you have a combination of cultural relevance and wittiness and cultural appeal, people respond," Kersten says of the shirts' raging success. Despair recently added a second shirt to its BP line, depicting the sunny BP logo dripping with oil.
Snark is also paying off for StreetGiant, a fledgling fashion site whose founders created an oil-splattered "bp cares" shirt to raise money for HealthyGulf.org. The satiric Twitter feed that publicizes the shirts, @BPGlobalPR, has drawn more than 28,000 followers -- five times the number following BP's actual Twitter account.
With cavalier messages like "Catastrophe is a strong word, let's all agree to call it a whoopsie daisy," the fake feed has sucked in more than a few Twitter followers mistaking it for the real thing. Sample response, from @tehchickgamer: "I can't help but be disgusted by your tweets. Shouldn't you be taking this more f***ing seriously? You're making a joke."
So far, BP (BP) is letting parodists have their way with its logo. With the oil spill still pumping at least 200,000 gallons a day into the Gulf of Mexico, the company has bigger problems right now than online satirists.
It hasn't asked Twitter to suspend the mock BPGlobalPR account, according to BP spokesman Mark Salt.
"People are entitled to express their views in whichever way they wish," Salt said.
He had no comment on the raft of satirical products for sale, reiterating that the public is free to comment as they like.
But the jokers and the battered oil company agree on one point: Everyone wants to see the leak capped. The latest effort is an experimental "top kill" capping maneuver BP is testing on Tuesday -- the same day rig operator Transocean held a memorial service for the 11 workers killed when the rig exploded.
"Even though we want our shirts to sell, we obviously hope that the spill is going to get cleaned up and that the issue is going to get resolved," said Despair's Kersten.