Don't ice me, bro! When memes meet the marketplace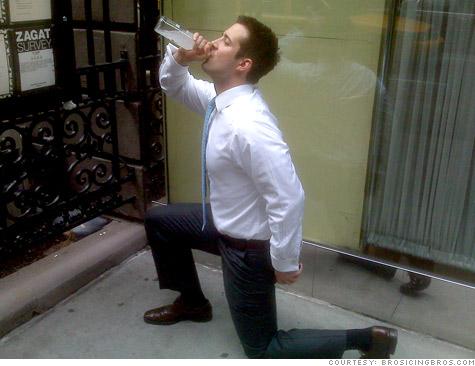 FORTUNE -- John Ryan didn't see it coming. The Scottsdale, Ariz. based software engineer, 27, had just returned to his office from lunch. Seconds later, his project manager crept up to his desk, holding a ticking time bomb: A 24 oz. bottle of Smirnoff Ice. "You've been iced," he said.
As his boss delightedly snapped pictures with his cell-phone, Ryan popped the cap, got on one knee, and chugged it. "It was rough," he says.
"Icing" -- or "getting iced" -- is a drinking game that's rapidly gaining popularity amongst office workers, tech and media types, and college students. The rules are simple: If a person sees a Smirnoff Ice, he or she must get down on one knee and chug it, unless they happen to be carrying their own Smirnoff, in which case they can "ice block," or refract the punishment back onto the attacker. In order to dupe people into stumbling across the beverage, participants have devised creative ways of presenting them with Ices, like strapping the bottles to the backs of dogs or burying them in vats of protein powder.
The trend first took hold on college campuses in the South, but it's trickled up both coasts, where icings have been spotted at the offices of companies like Yelp! and IAC's College Humor. Bankers, too, have embraced the fratty fad: An ice attack was recently reported at Goldman Sachs (GS, Fortune 500), and Fortune has learned of icings at Florida-based investment bank Raymond James (RJF) and New York City hedge fund D.E. Shaw.
As homemade videos and snapshots of people imbibing Smirnoff Ice appeared on the internet last week, bloggers speculated that the meme was the work of Smirnoff, which is owned by British alcohol giant Diageo (DEO). But representatives for both Diageo and its advertising firm, JWT, say they aren't involved. "The icing phenomenon is consumer generated," says Zsoka McDonald, a Diageo spokeswoman. She adds: "Some people think it's fun. Diageo never wants underage icing."
The creator of brosicingbros.com, the foremost authority on icing, says, "I've heard absolutely nothing from them." The brains behind the site, "Joe," is a 22 year-old recent college graduate who lives near Columbia, S.C. (he requested anonymity because he's looking for a job -- internet marketing firms, take note).
The Bro-Eds Behind It
Joe says he first heard about icing from fraternity members at the nearby College of Charleston, and decided to import it to his own school about six weeks ago. With the help of his frat brothers, the business major spread the word around campus and created brosicingbros.com to host pictures. "A bro is a college-age person," he says. "They like to hang out. A lot of them drink beer and wear backwards baseball caps. A lot of them drive SUVs and listen to Dave Matthews Band."
Bros are also "alpha consumers," at least on campus, which may be why the trend spread so quickly. "There are certain individuals that define social structures and drive the decisions other consumers make," says Dr. Heather Honea, a marketing professor at San Diego State University. "Infiltrating the fraternity or sorority market could be ideal."
Within weeks, Joe says, "BrosIcingBros" became a hit, so much so that his classmates were carrying protective Smirnoff Ices in their backpacks to ward off attacks. The game spread to other college campuses in the South. Joe -- who pays for the site with Google Ads -- says he gets as many as 100 submissions a day now. With the help of two friends, he sifts through e-mails for pictures of creative icings.
More recently, he says, he's received submissions from people in New York City, where interest amongst advertising and media types has hit a fever pitch. There are already spin-off memes: iceashton.com entreats visitors to ice Ashton Kutcher, the king of Twitter (Coolio, the rapper, has already been iced).
Colin Nagy, the creator of iceashton.com and a partner at Manhattan social media marketing agency Attention, says memes like his could prolong the trend. "It's like introducing more oxygen into a fire," he says. So far, Kutcher remains elusive.
Smirnoff: Bro is Me?
In some ways, the meme seems like a gift to Smirnoff: Free publicity powered by a marketing gimmick that's generated solely by consumers. Such authenticity is rare, advertising gurus say, but also risky. After all, "icing" is predicated on a negative message about the drink. Bros (allegedly) dislike Smirnoff Ice, which is why they derive pleasure from forcing it on each other.
Surprisingly, this could actually be good for the brand, so long as the game places more emphasis on its femininity than its alleged bad taste. "It's being positioned as a girlie product," says Honea. "If that's the association [Smirnoff] wants, then it's a positive thing for the brand."
The game could also create a new association for the product -- humor. Consumers sometimes support products and ideas ironically, propelling fads like "Rickrolling," which introduced a younger generation to 80's singer Rick Astley. KFC's DoubleDown sandwich, better known for its absurdity than its flavor, has been a hit for KFC, which recently extended its tenure through the summer.
Such love affairs are typically short-lived, but can generate longer-term interest in a brand. Bros might find that they actually enjoy the beverage. "I have been iced with the mango flavor of Smirnoff Ice, and I have to say it's not that bad," says Joe.
So far, the trend has yet to visibly impact sales of Smirnoff Ice. Workers at grocery stores in South Carolina and New York said they hadn't seen much of an effect. "[Smirnoff Ice] is doing okay, not too much," said an employee at Yesol Market, a bodega located in New York's financier-heavy Murray Hill neighborhood. According to researchers IRI, sales of Smirnoff Flavored Malt Beverages, which includes the Ice drinks, are up 1.6% over the last month, while other flavored malt beverages are up 12%. Last year, volumes of Smirnoff Ice sold in the U.K. were down 20%.
Diageo's McDonald says the company has been spending more time marketing its new Smirnoff Mixed drinks, which came out in the spring and have done well. "The real growth we're seeing in the segment is through new products," she says.
Bro with the Flow
So far, Smirnoff has steered clear of the game-a smart move, advertising experts say, since it could ruin its authenticity. But as the trend grows, it runs the risk of breeding ill will towards the brand, or, worse, associating it with binge or underage drinking. Alcohol companies have come under scrutiny recently from groups like the World Health Organization for marketing booze through social media.
"The challenge with consumer-generated messaging is that you lose control," Honea says. For example, in 2006 Chevrolet invited users to create their own commercials for the Chevy Tahoe; consumers responded by devising messages that critiqued the SUV as hurting the environment.
Smirnoff must walk a delicate line in addressing the meme, says Honea. "You have to figure out a way to be a partner as opposed to an adversary," she says.
The typical lifecycle of an internet meme is short--as brief as a couple of weeks, according to Sandy Smallens, EVP of Oddcast, a New York-based social marketing agency that has developed internet campaigns for brands like eTrade and McDonald's. But Smallens think memes like BrosIcingBros can last longer because they create a feedback loop between Internet usage and real world experience. He expects corporations to try and follow suit.
"We're gonna see more of this," says Smallens. "Now that everything can be delivered through digital media, what's the last authentic thing? Spontaneous experience." These bros, he says, are at the vanguard of the next phase in social media: real life.